Contents
Report data (aggregated by region)
DUC data (aggregated by region)
Related Today in Energy articles
Give Us Your Feedback
Receive Email Updates
New-well oil production per rig
barrels/day
New-well gas production per rig
thousand cubic feet/day
Region
May 2020
June 2020
change
May 2020
June 2020
change
Anadarko
551
717
166
3,256
4,233
977
Appalachia
145
146
1
19,631
19,828
197
Bakken
1,109
1,309
200
1,830
2,159
329
Eagle Ford
1,288
1,519
231
4,441
5,240
799
Haynesville
23
24
1
10,976
11,196
220
Niobrara
1,213
1,274
61
4,283
4,497
214
Permian
717
795
78
1,428
1,585
157
Rig-weighted average
745
809
64
3,867
4,524
657
Oil production
thousand barrels/day
Gas production
million cubic feet/day
Region
May 2020
June 2020
change
May 2020
June 2020
change
Anadarko
462
434
(28)
6,730
6,486
(244)
Appalachia
138
138
-
32,678
32,593
(85)
Bakken
1,135
1,114
(21)
2,770
2,744
(26)
Eagle Ford
1,210
1,174
(36)
6,479
6,353
(126)
Haynesville
37
36
(1)
12,018
12,008
(10)
Niobrara
660
636
(24)
5,525
5,447
(78)
Permian
4,377
4,290
(87)
16,049
15,839
(210)
Total
8,019
7,822
(197)
82,249
81,470
(779)
Drilled but uncompleted wells (DUC)
wells
Region
March 2020
April 2020
change
Anadarko
691
666
(25)
Appalachia
536
527
(9)
Bakken
888
898
10
Eagle Ford
1,356
1,357
1
Haynesville
244
245
1
Niobrara
453
460
7
Permian
3,436
3,464
28
Total
7,604
7,617
13
NOTE:
Productivity estimates may overstate actual production which could be limited by logistical constraints.

March 2020 Supplement: Base production accounts for a material share of total U.S. tight oil production.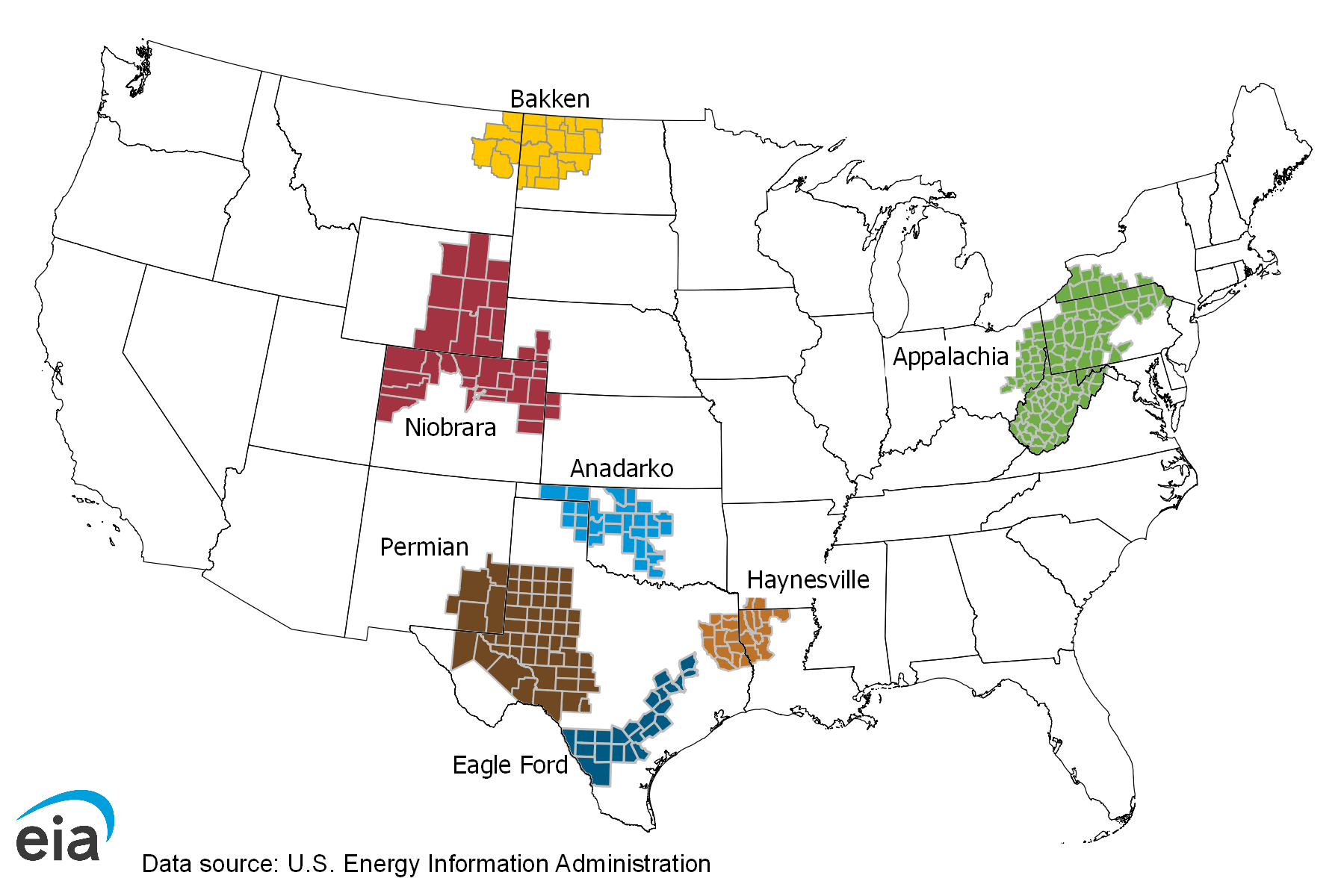 The Drilling Productivity Report uses recent data on the total number of drilling rigs in operation along with estimates of drilling productivity and estimated changes in production from existing oil and natural gas wells to provide estimated changes in oil and natural gas production for seven key regions. EIA's approach does not distinguish between oil-directed rigs and gas-directed rigs because once a well is completed it may produce both oil and gas; more than half of the wells produce both.