Highlights: December 2018
Key indicators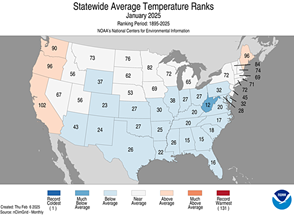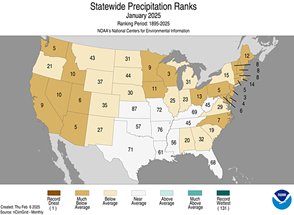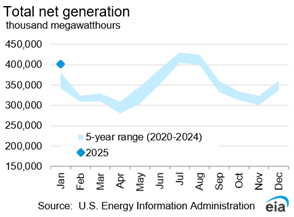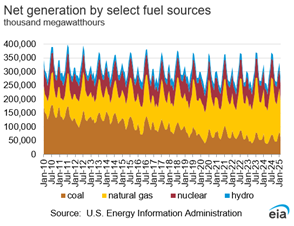 Hurricane Florence caused electric outages and affected net generation patterns
Source: U.S. Energy Information Administration, EIA-930 U.S. Electric System Operating Data and South Carolina Geographic Information Systems.
Note: Previous years aligned by week number and day of week to current year data.
---
In September 2018, Hurricane Florence caused widespread power outages in North and South Carolina after making landfall September 14, 2018, near Wilmington, North Carolina. Heavy rain, flooding, and high winds downed power lines, causing outages for more than one million customers between September 14 and September 18, 2018. The drop in electricity load in North and South Carolina was similar in magnitude to the drop in load following Hurricane Irma in September 2017; but the recovery in electricity load occurred more quickly following Hurricane Florence.
As lower temperatures, outages, and evacuations caused electricity load to drop in Hurricane Florence's wake, the balancing authorities in the region kept supply in balance by dispatching lower levels of net generation. As a result of the hurricane, the mix of energy sources used to provide power was different from the typical seasonal pattern. Typically, the Carolina region is supplied primarily by:
Nuclear (44%)
Natural gas (25%)
Coal (24%)
Hydro (3%)
Solar (2%)
Other (3%)
However, from Friday, September 14 through Sunday, September 16, the share of net generation increased for natural gas (32%) and hydro (4%), but it decreased for nuclear (40%), coal (21%), and solar (0.4%), relative to the typical regional generation mix.
The change in generation mix was the result, in part, of the reduced load caused by customer outages, evacuations, and lower temperatures. Regional load fell precipitously from 35,906 megawatthours (MWh) on September 12 before bottoming out at 17,277 MWh on September 15. As load declined, the five Balancing Authorities that operate the grid in the Carolinas reduced generation. Net generation is the amount of electricity that a power plant delivers to the electric grid, and it fluctuates based on dispatch orders from the grid operator that optimize cost, given congestion constraints and generator availability. The storm also had direct impacts on some generation sources, in particular, nuclear, solar, and hydro.
Source: U.S. Energy Information Administration, EIA-930 U.S. Electric System Operating Data
---
In the case of nuclear power, output declined as a result of planned and unplanned circumstances. Duke Energy shut down the 2,003 MW Brunswick nuclear plant, which is located in Southport, North Carolina, on the Atlantic coast in the direct path of Florence. The Nuclear Regulatory Commission requires a shutdown when winds at a plant site are predicted to exceed 74 m.p.h. The plant resumed operations on September 20, 2018. During the storm, a 1,220 MW unit at Duke's McGuire nuclear plant in Huntersville, North Carolina, was also shut down, but this was for planned maintenance. (The operating status of nuclear power plants can be seen on EIA's Status of U.S. Nuclear Outages web page.)
DUK = Duke Energy Carolinas
CPLE = Duke Energy Progress East
CPLW = Duke Energy Progress West
SC = South Carolina Public Service Authority
SCEG = South Carolina Electric and Gas
Source: South Carolina Geographic Information Systems
---
Generation from large-scale solar plants declined by 77% during the 3-day period covering September 14–16, 2018, relative to the previous 3-day period of September 11–13, 2018. This decrease was the result of increased cloud cover, downed power lines, and pre-emptive depowering. When part of the electric grid is out, solar facilities on that circuit have to go offline for safety. Some facilities are taken offline ahead of the storm, depending on their locations and technology, to protect the components. After the storm, downed power lines need to be repaired and solar sites need to be inspected before they can be brought back online. Flooding and dangerous road conditions can slow down the repair process, which is one reason why it was several days before some of these solar systems were brought back online following Florence. The drop in solar generation was more muted in Duke Energy Progress West (CPLW) because its territory was at the edge of the storm and experienced a lesser impact than other areas in the direct path of the hurricane. The biggest drops in solar generation occurred in Duke Energy Progress East (CPLE) (-90%) and South Carolina Gas and Electric (SCE&G) (-74%), which are adjacent to the Atlantic coast.
Hydro generation also changed during Florence. The operation of hydroelectric plants is uniquely complex and is influenced by factors other than load and generation costs. For instance, in SCEG's balancing authority area, a hydroelectric plant power generator that is rarely used was dispatched to draw down the water level in a lake to make room for extra water from the storm, as shown in the below chart. Normally SCEG only dispatches its Fairfield Pumped Storage plant at night to pump water into a reservoir and release the water to generate power during the day, causing the regular diurnal pattern. Other balancing authorities appear to have had a similar pattern in their hydro generation just before the storm, and in some cases, daily hydro generation was elevated after the storm as a result of dispatch decisions and higher water levels.
Source: U.S. Energy Information Administration, EIA-930 U.S. Electric System Operating Data
---
The impact of a storm on sources of generation varies depending on the storm, such as the difference in solar and hydro generation during Hurricanes Florence in September 2018 and Michael in October 2018. Although both storms caused widespread power outages, Michael was fast moving and narrower, and Florence was slow moving and wide, which had different cloud cover and precipitation effects on the Carolina region. Following Michael, solar generation declined less and was down for fewer days because the cloud cover and storm damage was narrower. Hydro generation was dispatched less ahead of Michael and remained elevated in different balancing authority areas after each storm.
Source: U.S. Energy Information Administration, EIA-930 U.S. Electric System Operating Data
---
Source: U.S. Energy Information Administration, EIA-930 U.S. Electric System Operating Data
---
Source: U.S. Energy Information Administration, EIA-930 U.S. Electric System Operating Data
---
Source: U.S. Energy Information Administration, EIA-930 U.S. Electric System Operating Data
---
Principal Contributor:
Lisa Sosna
(Lisa.Sosna@eia.gov)