Highlights: June 2018
Warm temperatures lead to higher electricity demand levels, but no records, on many electricity systems.
Wholesale natural gas prices traded between $2.88-$3.08/MMBtu at the Henry Hub during the month.
Net electricity generation in the United States increased by 3.9% compared to June 2017, mainly because the country experienced extremely warm temperatures during the month compared to the previous year.
Key indicators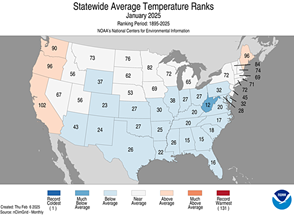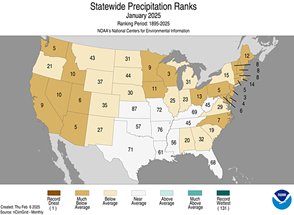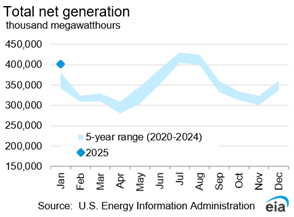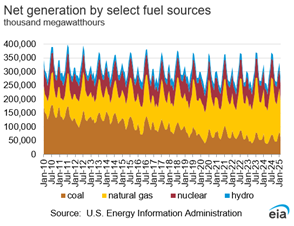 2018 year-to-date California hydroelectric generation drops from near-record levels in 2017 as drier weather conditions prevail
Source: U.S. Energy Information Administration, Power Plant Operations Report (Form EIA-923).
Note: 2017-2018 preliminary data, 2012-2016 final data.
---
California 2018 year-to-date (YTD) hydroelectric power generation has dropped from the near- record levels achieved in 2017 as drier state-wide conditions have prevailed in 2017 relative to 2018. In 2017, California hydroelectric generation was 42,693 gigawatthours (GWh), the second-highest hydroelectric output in the state since 2001. Through June 2018, however, statewide hydroelectric generation was 13,815 GWh, a 47% decrease relative to the same period in 2017 (25,834 GWh). The June 2018 YTD levels are 26% higher than the five-year average June YTD totals for 2012-2016 (10,975 GWhs).
Despite heavy snowfall in March, snowpack in the California portion of the Sierra Nevada ended the 2017/18 winter far less than the normal level. This lower snowpack is in stark contrast with the near-record snowpack many basins, mostly in that area, reported during the winter of 2016/17 that required dam operators to release water from reservoirs earlier than usual. The glut of water – snowpack was 190% of normal on May 31, 2017, after massive Sierra snowstorms in January and February, according to the U.S. Geological Survey – created the opportunity for hydro generation in California to surpass natural gas generation in April 2017 for the first time since May and June of 2011.
A survey in early April 2018 by the California Department of Water Resources found that snowpack was at 52% of its historical average – far lower than last year. As of May 10, 2018, snowpack levels throughout California were about 20% of their typical averages for that time of year.
Source: National Drought Mitigation Center, University of Nebraska-Lincoln.
---
Maps from the U.S. Drought Monitor illustrate the moisture difference between 2018 and 2017. As of June 26, 2018, about 44% of California was experiencing moderate to extreme drought conditions. In contrast, as of June 27, 2017, 8% of the state was in moderate to extreme drought. As drought has reappeared in Northern California, hydroelectric generation is again the second-most prevalent source of electricity generation in California after natural gas-fired generation.
The drop in California hydroelectricity generation between 2017 and 2018 can be compared and contrasted with a similar decrease in hydroelectric generation that occurred between 2011 and 2012. In 2012, California hydro generation (26,837 GWh), because of drier conditions, had fallen by 37% relative to 2011 levels (42,557 GWh), which was the third-highest level since 2001. This decrease in hydroelectric generation, combined with the closure of the San Onofre Nuclear Generating Station (SONGS) in early 2012, allowed natural gas generation to increase from 44% of state-wide generation in 2011 to 60% in 2012.
Alternatively, in the case of the decrease in 2018 YTD hydroelectric generation, solid growth in non-hydro renewables (solar, wind, geothermal, and biomass) appears to have made up for a significant amount of the lost hydroelectric generation. Non-hydro renewable generation was 34% of 2018 YTD total generation compared with 26% in 2017, solar generation increased to 15% of total generation from 11% in 2017, and wind increased to 9% of total 2018 YTD generation from 7% in 2017.
Source: U.S. Energy Information Administration, Power Plant Operations Report (Form EIA-923).
Note: 2017-2018 preliminary data, 2012-2016 final data.
---
In 2011, SONGS was still online, and nuclear generation was slightly less than a fifth of the annual California total. Together, natural gas, nuclear, and hydroelectric generation represented 84% of the state total in 2011. In the first six months of 2018, these three types of generation represented just 68% of the state total with SONGS being offline. Over the same period, solar generation – mostly from photovoltaic facilities - has grown from less than one-half of one percent of the state total to 15%. Wind generation has grown significantly as well – from 4% to 9% of total generation – but not nearly as fast as solar generation.
Principal Contributors:
Ronald Hankey
(Ronald.Hankey@eia.gov)
Paul McArdle
(Paul.McArdle@eia.gov)