U.S. Energy Information Administration - EIA - Independent Statistics and Analysis
Electricity
‹ See all Electricity Reports
Electricity Monthly Update
With Data for December 2016 | Release Date: Feb. 24, 2017 | Next Release Date: Mar. 24, 2017

Previous Issues
Highlights: December 2016
The price of natural gas on a $/MWh basis at both Henry Hub and New York City were above the price of Central Appalachian coal during December 2016.
Electricity generation from coal increased in all regions of the country compared to the previous year, mainly due to the large increase in natural gas prices, making coal more economical as a fuel used for electricity generation.
Wholesale electricity prices hit 12-month highs of $121/MWh in New York City (NYISO) and $97/MWh in New England (ISONE), while wholesale natural gas prices reached their highest levels since early-2015 in New York City, New England, and the Mid-Atlantic.
Key Indicators
December 2016
% Change from December 2015
Total Net Generation
(Thousand MWh)
345,238
6.4%
Residential Retail Price
(cents/kWh)
12.21
-0.9%
Retail Sales
(Thousand MWh)
306,163
3.0%
Heating Degree-Days
785
36.3%
Natural Gas Price, Henry Hub
($/MMBtu)
3.70
90.0%
Natural Gas Consumption
(Mcf)
706,376
-12.5%
Coal Consumption
(Thousand Tons)
64,883
29.2%
Coal Stocks
(Thousand Tons)
163,943
-16.2%
Nuclear Generation
(Thousand MWh)
71,662
2.9%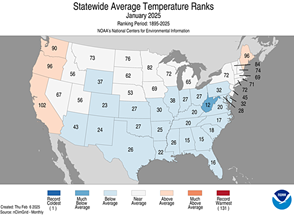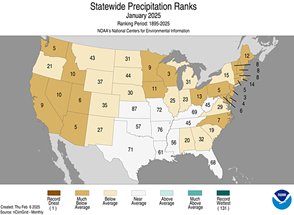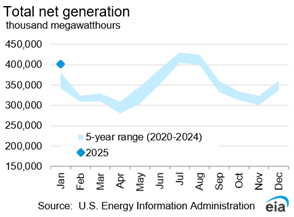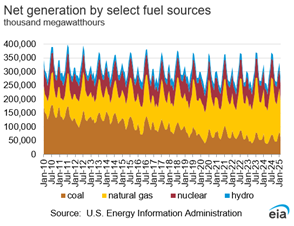 Two-way use of electric smart meters continues to grow and is the preferred operating mode
In 2015, the number of two-way electric smart meters increased by 6.3 million in the United States, bringing the total to 64.9 million. The number of one-way smart meters increased by 0.8 million, bringing the total to 49.1 million in 2015. The total number of retail customers (and thus meters) in the United States is 149 million. The use of two-way meters exceeded the use of one-way meters counts for the first time in 2013.
One-way (automatic meter reading (AMR)) meters let utilities read meters automatically to prepare customer bills. These types of meters are called one-way because the meter communicates information to the utility's meter-reading device, but the meter does not receive any information or commands from the utility.
Two-way (advance metering infrastructure (AMI)) meters collect meter data at least once daily, and make meter data available to the customer. Real-time monitoring and interaction between a utility and the customer's meter provides for earlier detection of problems, either in the system or at specific customer locations.
Source: U.S. Energy Information Administration, Form EIA-861, Annual Electric Power Industry Report
---
In 2015, 44% of customers had two-way AMI meters. Eight states that have the largest number of AMI meters (more than 2 million meters)-California, Texas, Florida, Georgia, Pennsylvania, Michigan, Illinois, and Arizona-accounted for 66% of all AMI meters in the United States. Although California and Texas were the states with the largest percent of AMI meters, the biggest yearly percent increases from 2013 to 2015 were found in Illinois and Michigan. These large states did not exhibit any general trend toward increased usage of AMI meters after 2010, which suggests that the overall increase in AMI meter use is occurring in smaller states.
Source: U.S. Energy Information Administration, Form EIA-861, Annual Electric Power Industry Report
---
In 2015, 33% of customers had one-way AMR meters. Eight states with the largest number of AMR meters in 2015-New York, Florida, North Carolina, Massachusetts, Virginia, Texas, Wisconsin, and Indiana-accounted for 46% of all AMR meters in the U.S. Indiana, had the biggest increase in the number of AMR meters between 2014 and 2015, jumping from around 2% to around 4% of the total AMR meters. The stable trend shown in this figure is consistent with the constant numbers for the overall AMR numbers mentioned above.
Source: U.S. Energy Information Administration, Form EIA-861, Annual Electric Power Industry Report
---
The two-way AMI meter penetration rate was higher than the AMR penetration rate in 2015 for both investor-owned and cooperative utilities. However, for municipal utilities, the AMR penetration rate was higher than the AMI rate. The higher costs of installing AMI could be the reason for municipal utilities having smaller numbers of AMI meters compared to AMR meters.
AMI and AMR meters by utility type in 2015
Utility type
Total customers
AMI meters
AMI penetration rate (%)
AMR meters
AMR penetration rate (%)
Investor-owned
107,617,527
48,564,372
45.1
33,879,568
31.5
Cooperative
19,385,230
10,625,052
54.8
6,814,909
35.2
Municipal
16,410,046
3,575,341
21.8
5,665,999
34.5
Source: U.S. Energy Information Administration, Annual Electric Power Industry Report (Form EIA-861)
Principal Contributor:
Cuc Schroeder
(Cuc.Schroeder@eia.gov)