U.S. Energy Information Administration - EIA - Independent Statistics and Analysis
Electricity
‹ See all Electricity Reports
Electricity Monthly Update
With Data for July 2017 | Release Date: September 26, 2017 | Next Release Date: October 24, 2017

Previous Issues
Highlights: July 2017
Hot weather caused new 12-month daily peak electricity demand highs in the Midwest (MISO), Southern Company, Progress Florida, and California (CAISO).
Mild temperatures and abundant hydroelectric production pushed wholesale electricity prices in the Northwest down to just $1/MWh, while record heat in the Southwest and California pushed prices in those areas well above $100/MWh.
U.S. coal stockpiles decreased to 148 million tons, down 7.8% from the previous month.
Key indicators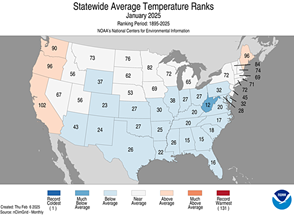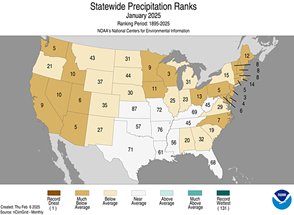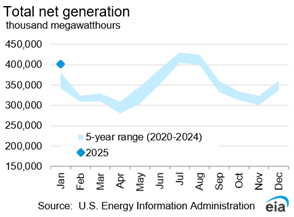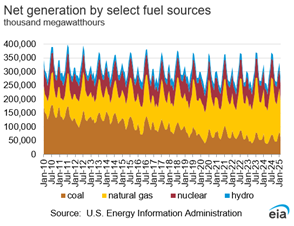 Net generation from conventional hydroelectric power sources in California surpassed generation from natural gas-fired sources in April 2017
The dramatic break in California's three-year drought resulted in state-wide hydroelectric generation of 4,398 gigawatthours (GWh) exceeding natural gas generation (4,249 GWh) in April 2017. This is the first time since May and June of 2011 that monthly hydroelectric generation exceeded natural gas generation in California.
The early-spring shoulder season, when snowpack runoff is normally high, and when higher summer heat has not resulted in higher generation levels from natural gas, is the time of year when the shares of natural gas and hydroelectric generation in California normally move toward each other. However, the recent protracted drought, particularly between 2014 and 2017, significantly suppressed the spring shoulder-season level of hydroelectric generation.
Source: U.S. Energy Information Administration, Form EIA-923, Power Plant Operations Report.
Note: Data for 2016 and 2017 are preliminary.
---
Although California is a net importer of electricity, the state still has the second-largest installed electricity generating capacity of any state -- 75.8 gigawatts (GW) of net summer capacity -- not surprising because it has by far the largest population of any state. California also has some of the toughest environmental regulations in the United States, which has led to natural gas being the only significant fossil fuel component of the California generation mix.
Although photovoltaic capacity has increased rapidly in recent year in California, the largest part of California's installed generating capacity is still natural gas-fired generators (39.5 GW). The state's hydroelectric power capacity remains second (10.2 GW). As a result, the predominant source of electricity produced in California has been generators fueled by natural gas.
On April 7, 2017, California Governor Jerry Brown signed an Executive Order ending the drought state of emergency in all California counties except Fresno, Kings, Tulare, and Tuolumne. Governor Brown had declared the drought state of emergency on January 14, 2014.
Precipitation in Water Year 2017 -- which runs from October 1, 2016 to September 30, 2017 -- has filled California's reservoirs to above-historic average levels, according to the U.S. Geological Survey (USGS). As of May 31, 2017, the USGS reported that the snowpack in the Northern, Central, and Southern Sierra Nevada was 190% of normal for that date as a result of massive storms in the Sierra in January and February. The graphic below illustrates the stark difference in drought levels between January 2014 and April 2017.
Source: The National Drought Mitigation Center, University of Nebraska-Lincoln, produced in partnership with the United States Department of Agriculture, and the National Oceanic and Atmospheric Administration
---
The recent upturn in California's hydroelectric generation, at the expense of natural gas generation, is illustrative of the fact that hydroelectric power facilities generally have lower operating costs relative natural gas generation facilities. That fact is amplified when there are ample water levels behind hydroelectric generation facilities, as was the case in California this spring.
Principal Contributor:
Ronald Hankey
(Ronald.Hankey@eia.gov)