October 28, 2022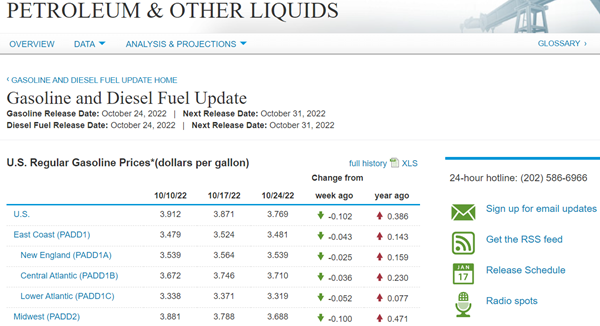 ---
Each Monday, we publish our Gasoline and Diesel Fuel Update (GDFU), which tracks the latest retail prices of certain petroleum products. Readers can explore current trends in fuel prices as well as historical data. The GDFU provides U.S. average retail prices for regular-grade motor gasoline, dating back to August 1990, and on-highway diesel fuel prices, dating back to March 1994.
In addition, the GDFU provides monthly updates on the prices of components that contribute to the cost of a typical gallon of motor gasoline and on-highway diesel fuel. One major contributor to retail gasoline and diesel prices is crude oil prices, which account for more than half of the retail price of gasoline and diesel.
Over the years, the GDFU has expanded to include more geographic areas and more fuel grades and formulations. Retail gasoline prices are now available for three grades and two formulations (conventional and reformulated) for 10 U.S. city areas, 9 states, 4 subregions, 5 regions (Petroleum Administration for Defense Districts), and nationally. On-highway diesel fuel prices are available for one state (California), four subregions, five regions, and nationally. U.S. gasoline prices vary regionally, reflecting local supply and demand conditions and differences in state fuel specifications and taxes.
We publish the GDFU every Monday around 5:00 p.m. eastern time. The report is based on data we collect that same morning from a statistical sample of service stations and truck stops across the United States. To maintain the quality of the data, the locations we collect diesel fuel data from were updated in June; the locations we collect gasoline data from were last updated in May 2018. Using the historical and latest price data, readers can compare longer-term prices against the same period for prior years or track the impact of major events affecting gasoline and diesel fuel prices over the prior week. Twice a year, the GDFU updates changes to federal and state motor fuels taxes.
Principal contributor: EIA Staff