October 6, 2020
---
The U.S. Energy Information Administration's (EIA) surveys of petroleum product sales by state show how sales of transportation fuels such as motor gasoline, jet fuel, and distillate fuel have changed so far in 2020 amid the various responses to the coronavirus pandemic. Motor gasoline sales fell the most in April and May, especially in states such as New Jersey and Michigan. Jet fuel sales have been lower in every month of 2020 to date in every state except Alaska, the home of one of the busiest cargo hub airports.
EIA's Prime Supplier Report complements EIA's weekly and monthly estimates of these sales, known as product supplied, that are often used to estimate consumption of petroleum products in the United States. EIA's product supplied data serve as a proxy for demand in primary downstream distribution channels, including refineries, pipelines, and large storage terminals. EIA publishes product supplied values regionally.
In contrast to product supplied, prime supplier sales data are obtained solely from EIA's survey of products sold for local consumption. This survey tracks demand by monitoring sales transactions of finished, consumable products at points farther downstream in the product distribution system. Unlike the product supplied series, the prime supplier sales data are available for all 50 states and the District of Columbia, except in cases where data are withheld to avoid disclosure of individual company data.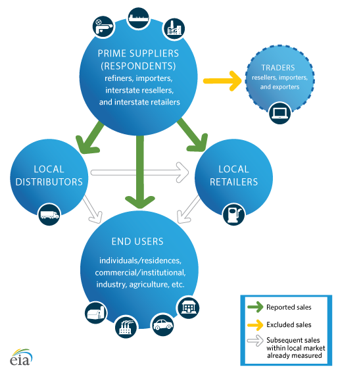 ---
Gasoline sales by surveyed companies fell to record lows in April 2020, and kerosene-type jet fuel sales reached a record low in May. Although gasoline prices have increased along with rising demand, prime supplier data and refiner prices show jet fuel sales have been slower to recover.
U.S. jet fuel sales in April and May 2020 were 63% and 65% lower, respectively, than they were in the same months of 2019. However, jet fuel sales in states like Kentucky, where Amazon Air, DHL International, and the United Parcel Service (UPS) have major hub operations, have been similar to their 2019 sales volumes. In only one state, Alaska, jet fuel sales in every month of 2020 have been higher than they were in 2019. Anchorage, Alaska, is home to one of the world's busiest cargo hub airports.
---
Compared with gasoline and jet fuel, sales of No. 2 distillate fuels (which are primarily consumed as diesel fuel) have not fallen as much. Distillate sales in April and May 2020 were only 8% and 11%, respectively, lower than their 2019 levels in those months. Land-based commercial freight carriers transport goods using diesel-powered trucks and railroad locomotives, and their fuel demand has been more stable during the pandemic compared with general transportation fuel demand.
No. 2 distillate fuel is also used in crude oil production, and certain crude oil-producing states have had larger year-on-year declines for No. 2 distillate fuel sales as crude oil prices have fallen. North Dakota's distillate sales data have been affected in part by Marathon Petroleum's decision to convert the Dickinson refinery into a renewable diesel fuel facility. The refinery was built in 2013 to supply diesel fuel for production equipment and vehicles operating in the Bakken region.
Principal contributor: Maureen Klein