February 2, 2017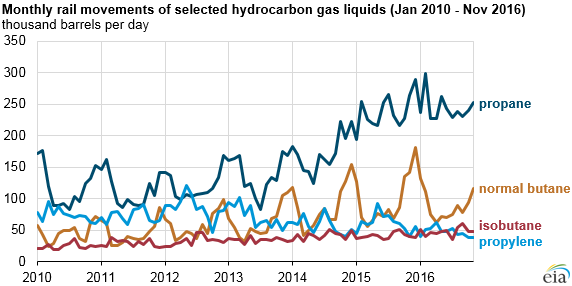 Source: U.S. Energy Information Administration, Petroleum Supply Monthly
Note: Includes shipments within the United States and trade with Canada.
---
Republished February 2, 2017, 4:30 p.m. to correct the units on the graph.
Adding to its data series of rail movements of crude oil, ethanol, and biodiesel, EIA recently released data on rail movements of propane, propylene, normal butane, and isobutane. These four petroleum products make up the majority of hydrocarbon gas liquids (HGLs) moved by rail. The new series are integrated with EIA's existing Petroleum Supply Monthly statistics, which already include movements of crude oil and select products by pipeline, tanker, and barge.
The new HGL-by-rail series includes shipments between and within Petroleum Administration for Defense Districts (PADDs) as well as shipments to and from Canada. The new data improve EIA's petroleum statistics by providing more accurate product supplied information for each region.
EIA published the series with monthly data from January 2010 through November 2016, the current reporting month. EIA developed the new series using information provided by the U.S. Surface Transportation Board (STB).
Pipelines are the primary mode of transport for crude oil and petroleum products, including HGLs. Rail shipments of propane, propylene, normal butane, and isobutane account for nearly a quarter of all inter-PADD movements of these HGLs. EIA's new data will complement existing data on the shipment of HGLs by pipeline and by tanker and barge. Rail movements of these products averaged 426,000 barrels per day (b/d) in 2016 (Jan–Nov). By comparison, rail movements of ethanol and crude oil averaged 637,000 b/d and 478,000 b/d, respectively, during the same period.
The maps below provide general flows of each of the four HGL products in 2010 and the first 11 months of 2016.
Register for today's (February 2) EIA webinar on HGL movements by rail to be held at 11:00 Eastern Time.
Principal contributors: Arup Mallik, Warren Wilczewski