April 27, 2012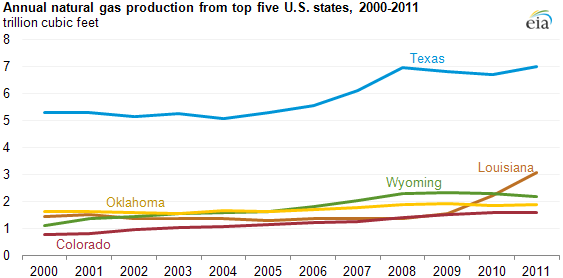 Source: U.S. Energy Information Administration, Marketed Natural Gas Production, and Colorado Oil and Gas Conservation Commission.
Note: 2011 production is preliminary data from EIA for all states, except Colorado, where preliminary data is provided by the state government.
Download CSV Data
---
Combined marketed natural gas production from the top five natural gas producing states—Texas, Louisiana, Wyoming, Oklahoma, and Colorado—increased by about 7.5% in 2011, although their share of total U.S. natural gas output fell slightly to about 65%.
Marketed natural gas production from these states in 2011 totaled 15.7 trillion cubic feet (Tcf), according to annual data from the U.S. Energy Information Administration. The drop in their combined share of total U.S. production reflects increased contributions from other states, particularly those in which operators significantly expanded development of shale gas formations. Shale gas production from states such as Pennsylvania helped boost overall U.S. natural gas output by almost 8% in 2011.
Due primarily to drilling programs in the Marcellus shale formation, Pennsylvania's marketed natural gas production in 2011 more than doubled to nearly 1.3 Tcf, according to preliminary estimates from Pennsylvania's Department of Environmental Protection. Arkansas has also seen strong growth in its marketed natural gas production, with output more than tripling since 2007 due mainly to increased production in the Fayetteville shale play.
Alaska is the country's second leading natural gas producer in terms of gross withdrawals, but most of the state's production is not brought to market, as production volumes far exceed local demand and there is insufficient pipeline capacity to transport the gas to distant markets. Most of Alaska's natural gas not brought to market is re-injected into existing oil fields to provide sufficient pressure to maintain oil production rates.
Highlights from the top marketed natural gas producing states in 2011: