December 9, 2011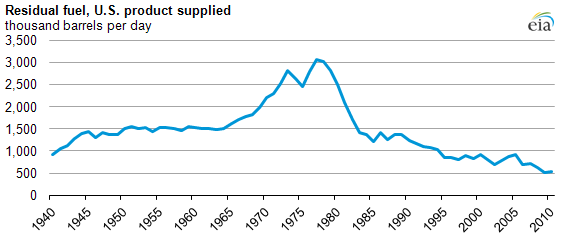 ---
After reaching a high point of over three million barrels per day (bbl/d) in the late 1970s, demand for residual fuel oil in the United States has steadily declined (product supplied as seen in the chart above is a proxy for demand). Residual fuel is used as fuel for large ships and for electricity generation, industrial process and space heating, and other industrial purposes. Between 2000 and 2010, average annual residual fuel use fell from approximately 900,000 bbl/d to 500,000 bbl/d. It averaged nearly three times that in the 1940s and 1950s. As its name implies, residual fuel oil is the remaining fraction resulting from the crude oil refining process. Because residual fuel is a heavy product, it has limited uses and relatively high emissions.
Changes on both the residual fuel supply and demand side of the equation are contributing to the downward trend.
Demand The demand-side landscape for residual fuel has changed over the course of the past few decades, particularly in the electric power sector. From 2000 to 2005, natural gas and oil prices tracked closely. Since 2006, the prices of these two fuels decoupled, as rapidly increasing supply drove natural gas prices down. As a result, the power sector began relying more on natural gas and less on residual fuel, except in circumstances where spot natural gas prices soared due to weather-related constraints. Other exceptions include Hawaii, which relies on residual fuel for much of its power generation (58% in 2010). To a lesser degree, Alaska and Florida use residual fuel, and in-city generators in New York City must use a minimum of residual fuel to meet reliability requirements. Other factors accounting for declining generation at residual-fired plants include: the availability of more efficient natural gas combined-cycle units, increased stringency of air emissions, and at times rising sulfur dioxide emissions costs.
Aside from the electricity sector, other major demand sectors, such as transportation, have not seen much change in residual demand over the same period. Residual fuel, often called bunker fuel in this context, continues to power large ships.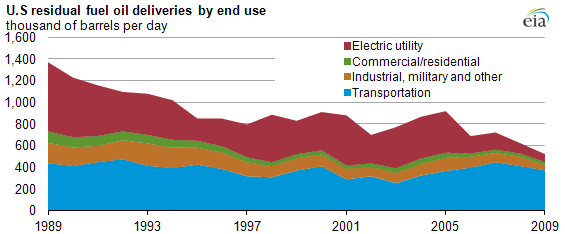 ---
Supply The supply of residual fuel oil from domestic refining has also declined. U.S. refinery yield for residual fuel oil dropped from 5.8% in 1993 to 3.8% in 2010. Refinery yield represents what finished petroleum products are made from crude oil run through refineries' crude distillate units and other downstream processes. Lighter petroleum products, such as motor gasoline and ultra low sulfur distillate, command higher market prices. Therefore, refineries focus their operations to maximize production of those products. By investing in more sophisticated downstream unit capacity, refineries can increase the amount of lighter products from each barrel of crude, and, as a result, lessen the production of heavier products such as residual fuel oil.
Due to rising gross exports and falling gross imports, the United States became a net exporter of residual fuel oil in 2008 (see chart below). U.S. gross exports of residual fuel oil increased steadily since the early 1990s. Additionally, after a sharp decline in gross imports from a high of more than 1,800 thousand barrels per day in 1973 to a low of less than 200 thousand barrels per day in 1995, gross imports have averaged about 350 thousand barrels per day over the last 10 years.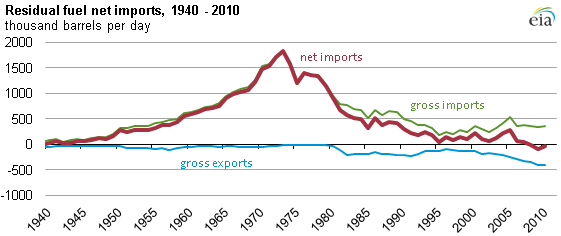 ---