November 4, 2011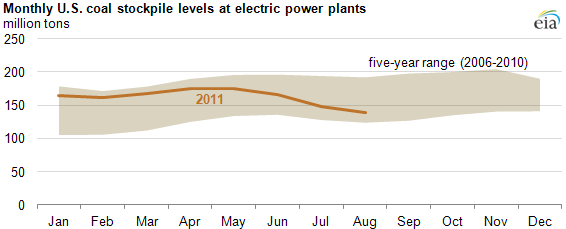 ---
Total coal stockpile levels at U.S. electric power plants were 139 million tons in August 2011—the lowest total level for August since 2006. Bituminous coal stockpiles declined the most, down 27% since August 2009. Increases in the spot price of Central Appalachian coal as well as some supply disruptions in the late spring of 2011 contributed to declining stock levels.
Coal stockpile levels typically decline during summer months as power plants burn through stocks to meet seasonal peak electric demand for air conditioning load. Stockpile levels have been depressed throughout 2011 compared to 2009 and 2010 levels. According to average monthly data, the spot price of Central Appalachian coal (a key benchmark for the price of Eastern bituminous coal) was up 18% since August 2010. Flooding in April and May disrupted some coal deliveries, especially in the Southeast, and likely played a role in the declining stock levels going into the summer of 2011.
"Days of burn," another measure of the disposition of coal stocks, dipped under 60 days by mid-year 2011 for the first time since 2008. The average number of days of burn held at electric power plants is a forward-looking estimate of coal supply, given a power plant's current stockpile and past consumption patterns. Mostly for reliability reasons, plant operators maintain stockpiles within certain ranges even though supply disruptions in excess of 60 days are relatively unlikely. Days of burn held generally rose in 2009 as a result of the reduced electricity demand associated with lower economic activity.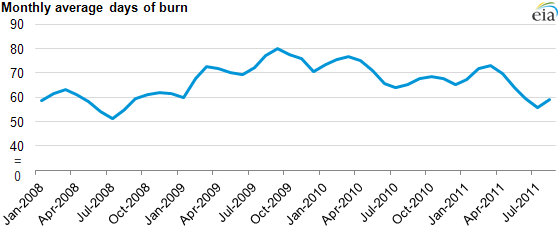 ---