U.S. Energy Information Administration - EIA - Independent Statistics and Analysis
Electricity
Highlights: May 2014
The lowest wholesale natural gas prices in the country were found in an unlikely place: the Northeast and Mid-Atlantic regions. The highest natural gas prices were found in California.
The New York City (Transco Zone 6 NY) natural gas price was $3.57/MMBtu in May 2014, which was $1.12/MMBtu below the price of natural gas at Henry Hub.
Electricity system daily peak demand was high in the CAISO and Tucson Electric systems as daily temperatures above 100 degrees increased cooling demand.
Key Indicators
May 2014
% Change from May 2013
Total Net Generation
(Thousand MWh)
323,731
0.6%
Residential Retail Price
(cents/kWh)
12.84
3.4%
Retail Sales
(Thousand MWh)
288,049
0.5%
Cooling Degree-Days
119
8.2%
Natural Gas Price, Henry Hub
($/MMBtu)
4.69
12.8%
Natural Gas Consumption
(Mcf)
672,659
5.0%
Coal Consumption
(Thousand Tons)
64,097
-1.0%
Coal Stocks
(Thousand Tons)
136,218
-22.9%
Nuclear Generation
(Thousand MWh)
62,947
0.2%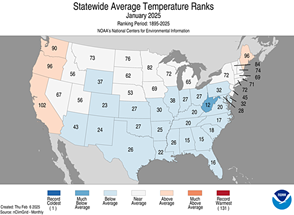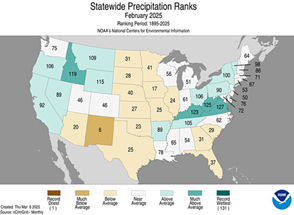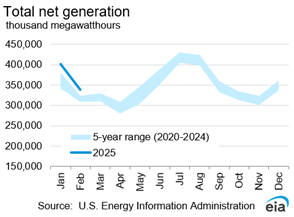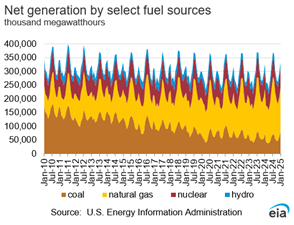 Electricity consumption for irrigation affects average industrial electricity prices in farm states
Note: States vary significantly in their annual average revenues per kilowatthour (KWh). This measure is high for California and Northeastern states and low for Northwestern and Plains states. The factors that drive high or low average revenues per KWh are usually similar for the residential and industrial sectors. Thus, when states' residential and industrial average revenues per KWh are ranked, #1 being the highest, their residential and industrial ranks tend to be similar as seen in the chart. This similarity of ranks is not the case for the North Dakota, where the industrial rank is 18 and the residential rank is 51.
Source: U.S. Energy Information Administration, Electric Power Annual.


---
In some farm states, the average retail industrial prices (rates) appear high relative to those of other states because the electricity sold to power farm irrigation systems is categorized by electric utilities as industrial sector consumption. Irrigation systems can be costly to serve because of the high cost of connecting these dispersed loads to the electric grid and the high cost of having enough capacity available to meet seasonal irrigation load.
One way to see how agricultural use affects of industrial rates is by comparing state's ranks for average industrial and residential rates (which provides a baseline for retail rates in the state). For most states, these ranks are similar. These are the ones that appear close to the 45 degree diagonal line on the chart.
For other states, their average industrial rate rank is significantly higher than their average residential rate rank. The industrial rate ranks of North Dakota, Nebraska, and South Dakota are significantly higher than their residential rate ranks. In these states, agriculture is a significantly larger user of electricity than other types of industry.
For example, Dawson Public Power District, a rural electric cooperative in an agriculture-heavy region of Nebraska, accounted for less than 3% of statewide industrial electricity sales in 2012 but had one of the highest average prices for industrial power. In general, the highest industrial electricity prices in Nebraska tend to be located in the rural southern and western portions of the state.
Many agricultural-heavy electric utilities use demand-response programs to manage the costs of connecting a large number of small users to the grid. Nebraska's Dawson Public Power offers lower rates for agricultural customers who allow the utility to control the electric usage of these systems when demand for electricity is high, a form of demand response. This flexibility allows the grid operator to adjust the load shape in a given day and reduce the need to bring on more expensive sources of electricity generation .
Principal Contributors:
Bill Booth
(William.Booth@eia.gov)
Marc Harnish
(Marc.Harnish@eia.gov)