U.S. Energy Information Administration - EIA - Independent Statistics and Analysis
Petroleum & Other Liquids
Heating oil expenditures expected to increase 38% this winter, but remain below normal
EIA's recently released Winter Fuels Outlook projects that household heating expenditures and consumption will rise for all fuels compared with last year's unusually mild winter. This is particularly true for households that rely primarily on heating oil, which comprise only 5% of households nationwide, but more than one-fifth of households located in the Northeast. EIA projects heating oil expenditures will increase by an average of $378 (38%) this winter compared to last winter, the largest increase of any fuel. The increase is the result of an expected rise in heating oil prices of 42 cents per gallon (20%), primarily due to higher oil prices, as well as a 15% increase in consumption, due to colder weather. Despite higher forecast expenditures compared with last year, household heating oil bills this winter are expected to be almost one-third lower than average expenditures over the five winters prior to last winter.
Nationally, the National Oceanic and Atmospheric Administration (NOAA) expects a return to near-normal temperatures that are 13% colder than last year's unusually warm winter. Despite expecting much colder temperatures than last year, NOAA forecasts that nationally, this winter will be 4% warmer than the average of the five winters prior to last year nationally. In the Northeast, NOAA expects temperatures to be 13% colder than last year but 2% warmer than the five winters prior to last year and 1% warmer than the 10-year average (Figure 1).
The concentration of heating oil consumers in the Northeast, a region where heating requirements exceed the national average level, results in the region consuming around 80% of the nation's home heating oil. Despite the prevalence of heating oil use in the Northeast, oil's share of the overall Northeast heating fuel market has declined, with the number of households primarily using heating oil falling by about one-fifth since the winter of 2010-11 as consumers switched to natural gas and, to a lesser extent, electric heating.
While heating oil consumption is expected to increase this winter, inventories are also near multi-year highs. Distillate stocks in the Northeast exceeded 53 million barrels on October 14, 6 million barrels (13%) above the same time last year and near their highest level for any week since 2010. Elevated inventory volumes provide a buffer in the event of regional refinery disruptions or higher demand because of significantly colder-than-expected temperatures. With inventories at such high levels, even a 10% colder-than-expected winter would leave stocks near the top of the five-year range (Figure 2). In the event that additional supplies are needed, the Northeast also has access to distillate imports from Europe and Russia. Together, these factors should reduce regional price volatility.
In addition to heating fuel estimates based on NOAA's baseline weather forecast, EIA runs winter weather scenarios that calculate expenditures if temperatures are 10% colder or warmer. In the colder-than-expected scenario, EIA projects that the average household using heating oil would spend 56% more than last winter, while in the warmer-than-expected case heating oil expenditures rise by a relatively lower 23%.
In addition to colder temperatures, higher heating oil prices are also expected to raise heating costs. The increase in heating oil prices this winter is primarily a result of higher crude oil prices, which are forecast to average $48 per barrel (b), or $1.14 per gallon this winter, 24% higher than last winter (Figure 3). Oil prices have risen as a result of the continued, gradual tightening of the market from a period of prolonged structural oversupply. More recently, prices have risen following the Organization of the Petroleum Exporting Countries (OPEC) announcement of a framework agreement to cut production at its regular November meeting, although the specifics of such a deal have yet to be announced.
Despite the recent upward move, oil prices are expected to remain well below their 2010-15 winter average, contributing to expectations that average heating oil expenditures this winter will remain almost one-third less than during that period. However, the current values of futures and options contracts suggests high uncertainty in the price outlook. Nymex contract values for January 2017 delivery traded during the five-day period ending October 6 suggest a price range from $37/b to $68/b encompasses the market expectation of West Texas Intermediate (WTI) prices in January 2017.
U.S. average regular gasoline retail price falls, diesel fuel price increases
The U.S. average regular gasoline retail price fell nearly two cents from the previous week to $2.26 per gallon on October 17, down two cents from the same time last year. The Midwest price fell seven cents to $2.16 per gallon. The Rocky Mountain price rose three cents to $2.27 per gallon, while the East Coast and Gulf Coast prices each rose by less than one cent to $2.24 per gallon and $2.04 per gallon, respectively. The West Coast price remained virtually unchanged at $2.68 per gallon.
The U.S. average diesel fuel price rose four cents from a week ago to $2.48 per gallon, down five cents from the same time last year. The Rocky Mountain, Midwest, and Gulf Coast prices each rose four cents to $2.55 per gallon, $2.46 per gallon, and $2.36 per gallon, respectively. The West Coast and East Coast prices each increased three cents to $2.74 per gallon and $2.47 per gallon, respectively.
Propane inventories fall
U.S. propane stocks decreased by 1.2 million barrels last week to 102.7 million barrels as of October 14, 2016, 1.1 million barrels (1.1%) higher than a year ago. East Coast, Midwest, and Rocky Mountain/West Coast inventories decreased by 0.6 million barrels, 0.4 million barrels, and 0.3 million barrels, respectively, while Gulf Coast inventories increased by 0.1 million barrels. Propylene non-fuel-use inventories represented 2.9% of total propane inventories.
Residential heating fuel prices increase
As of October 17, 2016, residential heating oil prices averaged $2.38 per gallon, one cent per gallon more than last week but nearly five cents per gallon less than last year at this time. The average wholesale heating oil price is $1.63 per gallon, almost two cents per gallon less than last week but three cents per gallon more than a year ago.
Residential propane prices averaged just over $2.05 per gallon, almost four cents per gallon more than last week and 16 cents per gallon more than one year ago. Wholesale propane prices averaged 68 cents per gallon, one cent per gallon higher than last week and nearly 14 cents per gallon more than last year's price.
For questions about This Week in Petroleum, contact the Petroleum Markets Team at 202-586-4522.
Retail prices (dollars per gallon)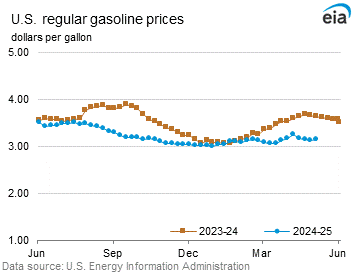 Retail prices
Change from last
10/17/16
Week
Year
Gasoline
2.257
-0.015
-0.020
Diesel
2.481
0.036
-0.050
Heating Oil
2.380
0.014
-0.049
Propane
2.053
0.035
0.160
Futures prices (dollars per gallon*)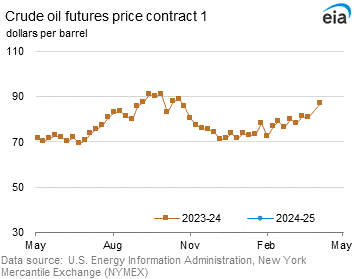 Futures prices
Change from last
10/14/16
Week
Year
Crude oil
50.35
0.54
3.09
Gasoline
1.494
0.012
0.166
Heating oil
1.567
-0.012
0.070
*Note: Crude oil price in dollars per barrel.
Stocks (million barrels)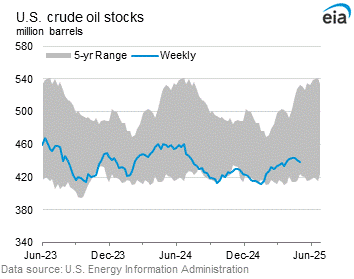 Stocks
Change from last
10/14/16
Week
Year
Crude oil
468.7
-5.2
24.1
Gasoline
228.0
2.5
8.2
Distillate
155.7
-1.2
10.7
Propane
102.682
-1.246
1.095