U.S. Energy Information Administration - EIA - Independent Statistics and Analysis
Analysis & Projections
Energy In Brief
The major energy sources consumed in the United States are petroleum (oil), natural gas, coal, nuclear, and renewable energy. The major users are residential and commercial buildings, industry, transportation, and electric power generators. The pattern of fuel use varies widely by sector.
---
The world oil market is complex. Governments as well as private companies play roles in moving oil from producers to consumers.
Features
Released September 9, 2014
EIA's monthly energy projections through 2015. Includes oil supply and consumption projections and price projections for crude oil, gasoline, diesel, and heating oil. The Market Prices and Uncertainty Report is a regular monthly supplement to the Short-Term Energy Outlook.
---
Released September 9, 2014
The International Energy Outlook 2014 (IEO2014) projects that world petroleum and other liquid fuels consumption will increase 38% by 2040.
---
Released May 7, 2014 | Next Early Release: December 2014
Projections in the Annual Energy Outlook 2014 (AEO2014) Reference case focus on the factors that shape U.S. energy markets through 2040.
---
Released August 28, 2014
This is the latest in a series of reports to Congress on the availability and price of petroleum and petroleum products produced in countries other than Iran in the 60-day period preceding the submission of the report.
---
What's New in
Analysis & Projections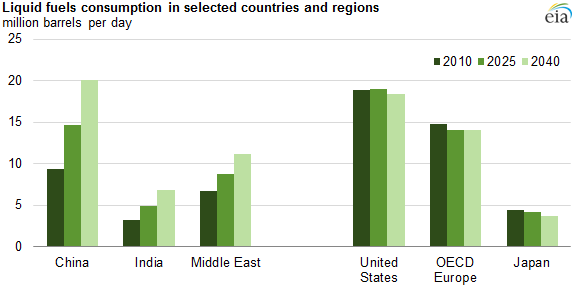 Requested service reports
from Congress and others
The Availability and Price of Petroleum and Petroleum Products Produced in Countries Other Than Iran June 27, 2013
Sales of Fossil Fuels Produced from Federal and Indian Lands, FY 2003 through FY 2011 May 30, 2013
More service reports ›
Presentations
Outlook for shale gas and tight oil development in the U.S.
Adam Sieminski, Administrator
April 20, 2013
EIA, Energy Markets, Forecasts
Adam Sieminski, Administrator
April 8, 2013
More presentations ›