U.S. Energy Information Administration - EIA - Independent Statistics and Analysis
Petroleum & Other Liquids
Energy in Brief articles
The United States relied on net imports (imports minus exports) for about 40% of the petroleum (crude oil and petroleum products) that we consumed in 2012. Just over half of these imports came from the Western Hemisphere. Our dependence on foreign petroleum has declined since peaking in 2005.
The world oil market is complicated. Companies are often thought of as the primary actors in this market, but governments play a large role as well.
See more Energy in Brief articles ›
---
Petroleum Explained
Although price levels vary over time, average retail gasoline prices are often highest in certain States or regions. Besides taxes, there are other factors that contribute to regional and even local differences in gasoline prices.
Biofuels: Ethanol and Biodiesel Explained
"Biofuels" are transportation fuels like ethanol and biodiesel that are made from biomass materials. These fuels are usually blended with the petroleum fuels — gasoline and diesel fuel, but they can also be used on their own. Using ethanol or biodiesel means we don't burn quite as much fossil fuel. Ethanol and biodiesel are usually more expensive than the fossil fuels that they replace, but they are also cleaner-burning fuels, producing fewer air pollutants.
---
Features
Released December 10, 2013 | Next Release: January 7, 2014
EIA's monthly energy projections through 2014. Includes oil supply and consumption projections and price projections for crude oil, gasoline, diesel, heating oil and the Winter Fuels Outlook. The Market Prices and Uncertainty Report is a regular monthly supplement to the Short-Term Energy Outlook.
---
Released December 9, 2013 | Next Release: January 13, 2014
The Drilling Productivity Report uses recent data on the total number of drilling rigs in operation along with estimates of drilling productivity and estimated changes in production from existing oil and natural gas wells to provide estimated changes in oil and natural gas production for six key fields.
---
Released December 2, 2013
Monthly price and volume statistics on crude oil and petroleum products at a national, regional and state level.
---
Released November 27, 2013
Supply and disposition of crude oil, petroleum products and other liquids (including ethanol) on a national and regional level. The data series describe production, imports and exports, movements and inventories.
---
Released November 27, 2013
The Monthly Biodiesel Production Report provides data on operations of the U.S. biodiesel industry.
---
Released October 31, 2013
This is the latest in a series of reports to Congress on the availability and price of petroleum and petroleum products produced in countries other than Iran in the 60-day period preceding the submission of the report.
---
Released June 21, 2013

Data series include fuel, electricity, and steam purchased for consumption at the refinery; refinery receipts of crude oil by method of transportation; and current and projected atmospheric crude oil distillation, downstream charge, and production capacities.
---
What's New in
Petroleum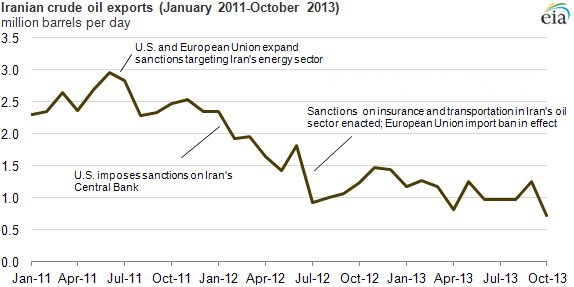 Regular Weekly Releases
Day of release changes on weeks with Federal holidays.
Survey Forms, Changes & Announcements
Petroleum Maps