December 13, 2018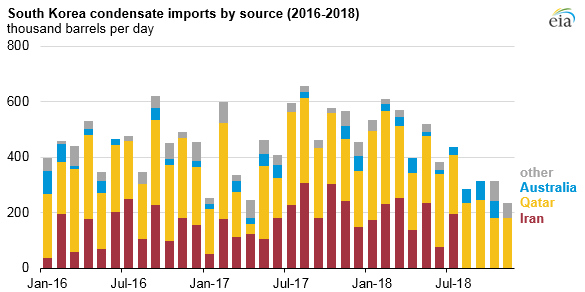 Source: U.S. Energy Information Administration, based on ClipperData, LLC
---
South Korea, the world's leading importer of condensates, has sought alternatives to partially offset declines in imports of Iranian condensates during the past few months, particularly in light of U.S. sanctions on Iranian exports of crude oil and condensate. South Korea purchased close to half a million barrels per day (b/d) of condensates in 2017, accounting for more than 25% of global condensate trade. In the first seven months of 2018, 38% of South Korea's condensate imports came from Iran. South Korea ceased importing Iranian condensates in August. Subsequently, the United States granted South Korea an exemption to import about 200,000 b/d of condensates from Iran for 180 days.
Condensates are light liquid hydrocarbons—similar to light crude oils—that are separated from natural gas after production. Condensates generally have a gravity of 50 degrees API or higher. South Korea's rapidly expanding petrochemical industry has led to more demand for condensates that can be split into petroleum products such as naphtha and liquefied petroleum gases, which can then be used to make plastics and other products. Naphtha accounts for more than 40% of South Korea's petroleum product consumption and is a primary driver of domestic energy consumption growth.
According to FACTS Global Energy Services, South Korea increased its condensate refining capacity to 464,000 b/d after Hyundai Chemical brought online its condensate splitter in Daesan at the end of 2016. South Korea installed three large condensate splitters between 2014 and 2016, which boosted the country's demand and imports of condensates and lighter crude oil blends. Qatar and Iran have been the largest condensate suppliers to South Korea, according to tanker tracking data. Iran has been South Korea's second-largest source of condensates since 2016, and in 2017, Iran shipped 178,000 b/d of condensates to South Korea.
Iran's condensate exports decreased in late 2017 because of maintenance performed on the South Pars field. In addition, Iran installed a second Persian Gulf Star condensate splitter in early 2018, temporarily drawing some of its condensates off the market.
South Korea also began to seek alternatives to Iranian condensate imports in anticipation of the U.S. re-imposition of sanctions on Iran's crude oil and condensate exports. After the United States granted South Korea the 180-day exemption from these sanctions, trade press reports that South Korea plans to resume importing some volumes from Iran in early 2019.
To partially replace imports from Iran, South Korean refinery and petrochemical companies increased condensate shipments from Qatar and Australia, as well as smaller quantities from other sources. South Korean refiners with condensate splitters that can process light crude oil grades higher than 45 degrees API have imported some light crude oil blends from Kazakhstan, Russia, Nigeria, Algeria, and the United States to partially fill the condensate supply gap. Refiners also increased their direct imports of full range naphtha as a substitute.
Principal contributors: Candace Dunn, Eric Han