October 14, 2011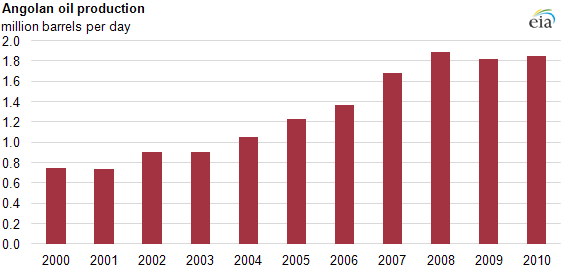 ---
Angola has emerged as Africa's second largest oil producer; its oil production has grown 147% since 2000. Angola is the eighth largest supplier of crude oil to the United States and the second largest crude supplier to China, according to data for January through July 2011. Angola is still rebuilding from a 27-year civil war that ended in 2002. Security issues remain, especially in the disputed oil-rich Cabinda exclave. Border disputes have halted some oil developments.
A member of the Organization of the Petroleum Exporting Countries (OPEC), Angola has production targets ranging from 1.52 to 1.66 million barrels per day (bbl/d); however, the country is currently increasing its oil production and capacity. In 2010, Angola produced about 1.85 million bbl/d of crude oil and, given very low levels of domestic consumption, exported all but 50 thousand bbl/d.
Oil is crucial to the Angolan economy, accounting for over 95% of export revenues and over 75% of government revenue. In 2010, Angola exported almost 1.8 million bbl/d of crude oil; the majority of crude oil exports went to China (45%) and the United States (23%), representing 17% and 4% of those countries' total crude oil imports, respectively.
Production in 2011 is down, averaging 1.65 million bbl/d, due to temporary technical problems. Industry analysts expect Angolan production to grow beyond 1.85 million bbl/d by the end of 2011, and perhaps reach 2.5 to 3 million bbl/d of capacity by 2016, based on planned project startups.
International oil companies, including Chevron, ExxonMobil, Total, Eni, and BP, play a major role in Angola, operating most production. The Angolan government recently held a licensing round for a pre-selected group of private companies to explore and produce in the country's pre-salt offshore areas—an area believed to be of similar geological makeup to the Brazilian pre-salt.
China is a major investor in Angola and has provided several multi-billion dollar oil-backed loans to fund infrastructure development. The China Petroleum & Chemical Corporation (Sinopec) and China National Offshore Oil Corporation (CNOOC) are among the national oil companies working in Angola. Angola is now the second largest supplier of oil to China, behind Saudi Arabia.
According to EIA's recently released Angola Country Analysis Brief, Angola had 10.9 trillion cubic feet (Tcf) of natural gas reserves in 2011, up from an estimated 2 Tcf in 2007. Natural gas production in Angola is tied directly to oil production and is often vented or flared, with limited volumes consumed domestically. An Angolan liquefied natural gas (LNG) terminal, due to commence operation in 2012, will allow Angola to export its natural gas and reduce flaring.