September 1, 2017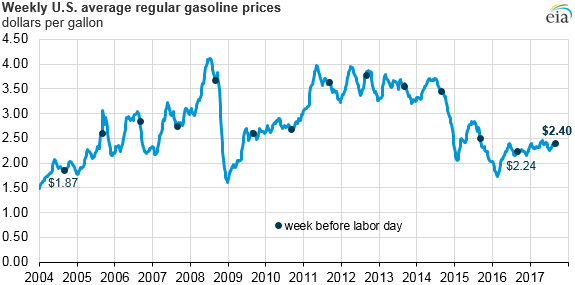 ---
Hurricane Harvey, which first made landfall on August 25, 2017, has created considerable uncertainty for gasoline supply and prices, as the area affected by the hurricane is home to much of the nation's petroleum infrastructure. On August 28, the U.S. average retail gasoline price was $2.40 per gallon (gal), the second-lowest price on the Monday before Labor Day since 2004. However, prices on that date do not yet reflect the full effects of Hurricane Harvey.
Retail gasoline prices vary significantly within the United States as a result of regional supply and demand balances, gasoline specification requirements, and taxes. As of August 28, regular retail gasoline prices were highest in the West Coast region, at $2.90/gal, and lowest in the Gulf Coast region, at $2.16/gal. West Coast retail gasoline prices are often above the national average because of the region's isolation from additional supply sources, gasoline specifications that are more costly to manufacture, and higher taxes.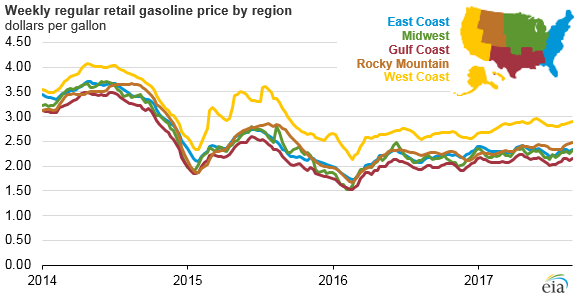 ---
The U.S. Gulf Coast typically has the lowest retail gasoline prices in the country because it is home to approximately 50% of U.S. petroleum refining capacity. The Gulf Coast also produces more gasoline than it consumes, and regional state taxes on gasoline tend to be relatively low.
However, Hurricane Harvey, which hit the Gulf Coast last Friday, has affected crude oil production and refinery operations in the region. A number of refineries have shut down or are operating at reduced rates, which will likely have implications beyond the Gulf Coast. The East Coast in particular is largely dependent on pipeline shipments of transportation fuels from the Gulf Coast.
The Colonial pipeline, a major pipeline supplying petroleum products from the Gulf Coast to the East Coast, is usually fully utilized but is now operating intermittently because of a lack of refinery and terminal product available to fill the line. Several challenges still remain in quickly restarting refineries, including loss of electricity, the ability of personnel to reach the refineries, and the capacity to gather and distribute crude oil and petroleum products.
Low crude oil prices are the main reason for relatively low gasoline prices, because gasoline prices in the United States typically follow the Brent crude oil price. As of August 29, the Brent crude oil spot price was $51 per barrel (b), about $34/b lower than the previous five-year average for the same day, but nearly $3/b above the price from the same time last year. As gasoline demand has increased, relatively high gasoline production and above-average inventory levels have placed downward pressure on prices.
As of May 2017, U.S. Federal Highway Administration data indicate that year-to-date vehicle travel was up by 21.2 billion miles (1.7%) compared with the same period in 2016. Weekly product supplied (a proxy for demand) surpassed the five-year average the first week of March and has since trended near the previous five-year high.
Principal contributor: Matthew French