November 21, 2013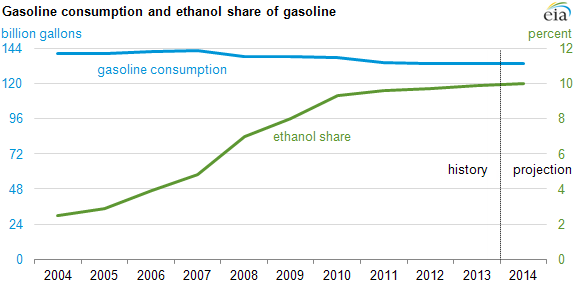 Source: U.S. Energy Information Administration, Short-Term Energy Outlook November 2013
---
On November 15, 2013, the Environmental Protection Agency (EPA) released its Notice of Proposed Rulemaking for the 2014 Renewable Fuels Standard (RFS). The RFS program, established by the Energy Policy Act of 2005 and later expanded by the Energy Independence and Security Act of 2007 (EISA07), requires EPA to set annual requirements for the renewable content of liquid fuels that may differ from a set of targets specified by law. The U.S. Energy Information Administration is required by the RFS provisions in EISA07 to provide EPA with information related to the projected use of motor gasoline and diesel fuel and the supply of various categories of biofuels in the month prior to issuance of EPA's final RFS rulemaking for each program year.
While EPA has set requirements for cellulosic biofuels well below the legislated volume targets for such fuels in past RFS program years, the proposed rule for the 2014 RFS program is the first time that the agency is seeking to set the total renewable fuel and advanced biofuel requirements below the legislated targets. More information about the EPA's proposed rule is discussed in This Week in Petroleum.
For more information on the RFS program, see the previous Today in Energy articles that discuss this topic.
Principal contributor: Tony Radich