November 19, 2013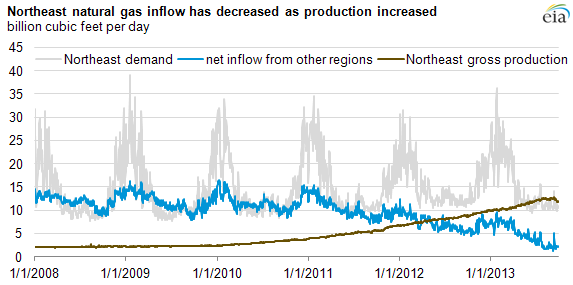 Source: U.S. Energy Information Administration, based on Bentek Energy
Note: The Northeast includes Maine, New Hampshire, Vermont, Massachusetts, Rhode Island, Connecticut, New York, New Jersey, Pennsylvania, Delaware, Maryland, Virginia, West Virginia, Ohio, and Kentucky.
---
Republished November 19, 2013, 12:00 p.m. to update data in the text.
Natural gas production in the northeastern United States rose from 2.1 billion cubic feet per day (Bcf/d) in 2008 to 12.3 Bcf/d in 2013. This trend has reduced the cost and increased the supply of natural gas in the Northeast. This additional supply has encouraged greater use of natural gas in the Northeast, especially for power generation, and has also reduced net inflows of natural gas into the region from other regions such as the Gulf of Mexico, the Midwest, and eastern Canada.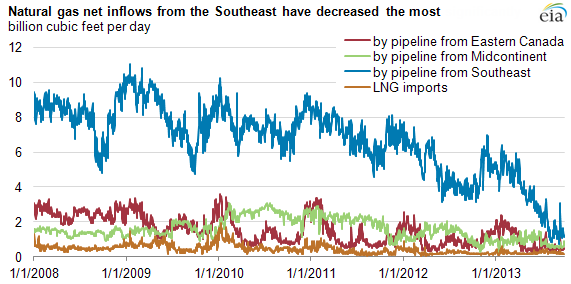 Source: U.S. Energy Information Administration, based on Bentek Energy
---
During the first nine months of 2013, net inflows of natural gas to the Northeast from all outside sources decreased by 60% from the comparable 2008 period. Historically, the Northeast relied heavily on natural gas supply from the Southeast. Most southeastern supply originates in the Gulf of Mexico and is principally transported to the Northeast on four long-haul gas transmission pipelines: the Colombia Gulf Transmission pipeline, the Tennessee Gas Pipeline (TGP), the Texas Eastern Transmission (TETCO) pipeline, and the Transcontinental Gas (Transco) pipeline. Flows on these pipelines from the Southeast into the Northeast have been displaced in part by natural gas produced in the Appalachian Basin's Marcellus Shale play, where increased production has occurred alongside expansions in capacity to move gas to northeastern consumers. Southeastern natural gas still accounts for three-fourths of the total flow to the Northeast, although total Southeast inflows may continue to decrease with additional expansions in Marcellus takeaway capacity to the Northeast added at the beginning of this month.
Natural gas inflows to the Northeast
January-September average
Eastern Canada
Midcontinent
Southeast
LNG imports
Bcf/d
Bcf/d
Bcf/d
Bcf/d
2008
2.5
1.2
7.9
0.5
2013
0.4
0.6
3.5
0.2
Change
-2.0
-0.6
-4.4
-0.3
% change
-82%
-48%
-56%
-54%

Source:U.S. Energy Information Administration, based on Bentek Energy
Between 2008 and 2013, natural gas net inflow from eastern Canada to the Northeast fell by 82%. Lower production at Sable Island and higher demand for natural gas in eastern Canada contributed to the decrease of natural gas imported into the Northeast from eastern Canada. Moreover, earlier this year, the Northeast began exporting greater volumes of natural gas to eastern Canada by pipeline from TGP's border crossing in Niagara, New York, following expansions completed on TGP last year. The United States also began exporting compressed natural gas (CNG) to Canada this year by truck from Calais, Maine. Beginning in April 2013, there have been days when the Northeast was a net exporter of natural gas to eastern Canada.
In addition, greater natural gas production in the Northeast has contributed to the inflow decreases from the Midcontinent to the Northeast along the Rockies Express Pipeline. Greater Northeast supply has also contributed to lower natural gas prices in the United States, thus diverting LNG coming from foreign countries to higher-priced markets in Europe and Asia.
Principal contributors: Tu Tran, Mike Ford