July 18, 2013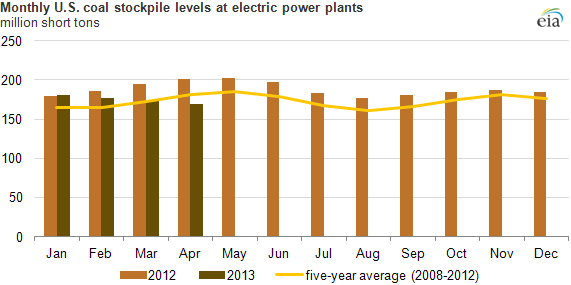 Source: U.S. Energy Information Administration, Electric Power Monthly.
---
Coal inventories at power plants dropped below the monthly five-year average in April, the first time this has happened since December 2011. The decline in stockpiles occurred as coal burn increased across much of the nation during a winter that was colder than the previous winter. In addition, rising natural gas prices prompted some power plants to burn more coal and less gas to generate electricity.
Total coal consumption was up 11% in first-quarter 2013, compared to the same period in 2012. However, the increase in coal consumption did not translate into increased sales by coal producers. Receipts of coal at electric power plants actually decreased 5% between first-quarter 2012 and first-quarter 2013 as plant operators chose to meet rising demand by drawing down the historically high levels of stockpiles.
Last spring, when natural gas prices were near ten-year lows, coal consumption for electricity declined and stockpile levels increased. Coal consumption has since increased, but most power plants are burning down the record stockpile levels rather than increase purchases of coal. Because electric power plants appear set to burn down the record coal stocks rather than buy new supply, the weak domestic market for coal producers is expected to continue throughout 2013.
In addition, the strong 2012 market for exports of U.S. steam and metallurgical coal has cooled off in 2013. Consequently, U.S. coal production is expected to remain flat in 2013. EIA's most recent Short-Term Energy Outlook does not forecast U.S. coal production to increase until 2014, when EIA expects it to rise by about 3% over 2013.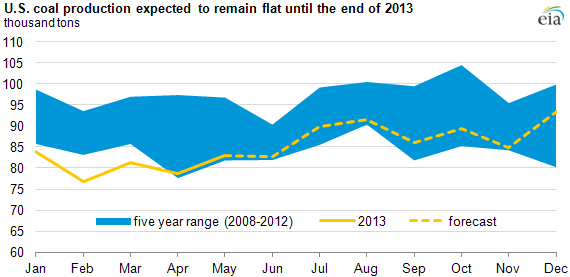 Source: U.S. Energy Information Administration, Short-Term Energy Outlook.
---
Coal has continued to fuel about 40% of total generation over the past five months. This is up from a low of 32% in April 2012, when natural gas prices were near 10-year lows. However, as recently as November 2008, coal accounted for 50% of total generation. The favorable supply and price picture for natural gas, and to some extent the increased penetration of renewable power, appears to have created a new, lower normal for the coal share of the power market.