April 26, 2011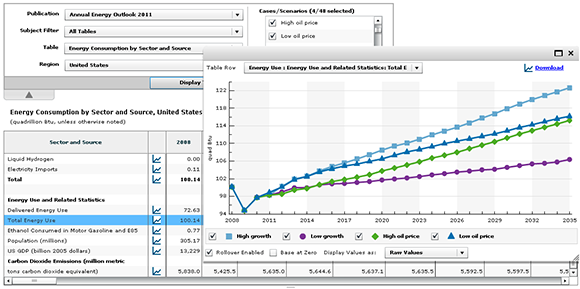 ---
Today the Energy Information Administration released the full version of its 2011 Annual Energy Outlook (AEO). The 2011 AEO includes many side cases that provide projections of energy markets under a variety of different assumptions. Detailed model results through 2035 are available in an interactive table browser along with extensive analysis of energy issues, regulations, and legislation in the complete report.
A few of the principal sensitivity cases examine high and low assumptions for:
Macroeconomic growth
World oil prices
Utility and end-use technology advancements
Fossil fuel technology costs
Coal prices
Nuclear technology costs
Renewable technology costs
Liquefied natural gas supply
Shale gas supply
The full release also examines several energy issues, including the impact of extended and expanded tax credit and efficiency programs, appliance and equipment efficiency standards, vehicle fuel economy standards, utility power plant cost uncertainties, and environmental regulations.
Also included are analyses of particular State and Federal legislation and regulation topics such as State air emissions regulations, State renewable energy requirements, Federal liquid fuels taxes and tax credits, and ethanol blending.