U.S. Energy Information Administration - EIA - Independent Statistics and Analysis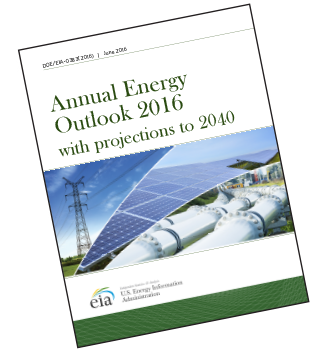 Annual Energy Outlook 2016
presents yearly projections and
analysis of energy topics

Projections in the Annual Energy Outlook 2016 (AEO2016) focus on the factors expected to shape U.S. energy markets through 2040. The projections provide a basis for examination and discussion of energy market trends and serve as a starting point for analysis of potential changes in U.S. energy policies, rules, and regulations, as well as the potential role of advanced technologies.
---
By Section
Executive Summary - End of August 2016
Preface -End of August 2016
Market Trends -End of August 2016
Issues in Focus

Legislation & Regulations -End of August 2016
Comparison with Other Projections -End of August 2016
Appendices -End of August 2016

---
Data tables
Reference Case Summary & Detailed Tables
---
Interactive Table Viewer ›
Provides custom data views of the two AEO2016 Early Release cases. All available cases can be charted and the data for them downloaded.
---