January 25, 2013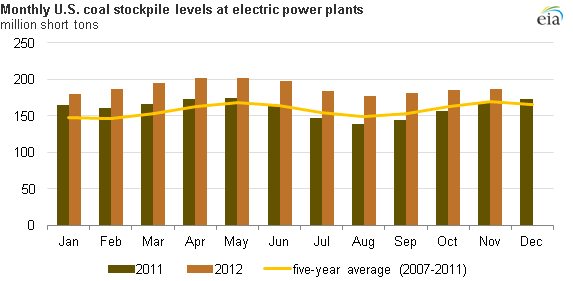 Source: U.S. Energy Information Administration, EIA-923, Electric Power Plant Operations Report.
---
Increased competition between fuels as well as a warm winter 2011-12 led to lower consumption of coal and, thus, higher coal stockpiles at electric power plants in the United States through November 2012. Stockpiles in November were above the levels of 2011 as well as the five-year average for an eleventh straight month.
Coal stockpiles typically decline during summer and winter as power plants burn through stocks to meet peak electricity demand for heating and cooling, respectively. Historically low natural gas prices contributed to reduced coal consumption at electric power plants during the spring and summer of 2012, while a warmer-than-normal winter 2011-12 decreased the overall heating load in the winter.
Because most coal at electric power plants is purchased through long-term contracts, utilities are rarely able to defer purchases. This leads to higher and higher coal stockpiles, until increased coal use draws down inventories.
Another measure of the disposition of coal stocks, called days of burn, estimates how many days a stockpile of coal would last at a plant based on past consumption patterns. This calculation provides a forward-looking estimate of coal supply at a power plant. As shown in the figure below, days of burn during 2012 were above the levels seen since 2008, reflecting the combined effect of ample stockpiles and lower utilization rates for coal-fired generators.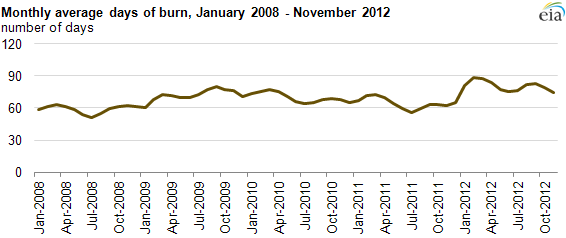 Source: U.S. Energy Information Administration, EIA-923, Electric Power Plant Operations Report.
---
Electric utilities often try to maintain a 60-day supply of coal on hand to avoid tying up operating capital in fuel stocks. Because long-term contracts often have penalties associated with deferring shipments of coal, power plants are faced with few options other than continuing to accept deliveries. As the long-term contracts for coal purchases expire, electric utilities may choose to lower future purchases, given the high inventory levels.