January 11, 2013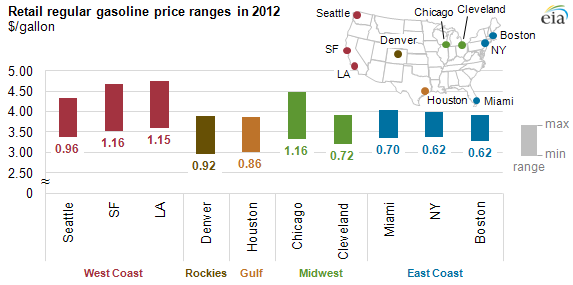 ---
Retail prices for regular grade gasoline in 2012 moved over wide ranges in many parts of the country. Many factors contributed to retail gasoline price movements, including crude oil price changes, refinery outages, grade specification changes, and other changes in gasoline supply and demand. As seen in the chart above, both the levels and ranges of retail prices varied significantly across the nation.
High crude oil prices were reflected in motor fuel prices paid by consumers at the pump during 2012, with crude oil accounting for 66% of the retail cost of gasoline. The national average pump prices for gasoline and diesel fuel during 2012 set record highs of $3.62 per gallon and $3.97 per gallon, respectively. Last year also marked the second calendar year in a row that the average price for both transportation fuels remained above $3 per gallon during every week, based on EIA data.
EIA collects data on retail gasoline and diesel fuel prices every Monday across the country and publishes this data the same day it is collected. Retail gasoline prices are published by region, for 9 selected states, 10 selected cities, and for the entire country. Below is a description of retail gasoline price changes in 2012 in several cities.
East Coast (Boston, New York, and Miami)
In Boston and New York, retail gasoline prices peaked in mid-September, when there was a refinery outage in eastern Canada, which also led to relatively low gasoline inventories along the East Coast (PADD 1). Prices were the lowest in those two cities in the first part of the year, when demand for gasoline is usually at its lowest during the year. The pattern in Miami was slightly different from Boston and New York. In Miami, retail prices followed the pattern of crude oil prices, with the maximum price occurring in the spring and the minimum price occurring in early July.
Midwest (Chicago and Cleveland)
Retail prices in Chicago and Cleveland also peaked in the spring, when crude oil prices peaked. This is also the time of year when some refineries shut down for routine maintenance and supplies shift from winter grade gasoline to summer grade gasoline. This transition can lead to fewer inventories of summer grade gasoline as refineries begin switching from one grade to another. Prices in Chicago and Cleveland were at their lowest levels of the year in mid-December, as an increase in supply led to gasoline inventories rising rapidly in the Midwest (PADD 2).
Gulf Coast (Houston)
In Houston, prices peaked in early spring for the same reasons they did in Miami, Chicago, Cleveland, and elsewhere: high crude oil prices and industry transition from winter grade to summer grade gasoline. Prices were the lowest in Houston in mid-December, as an increase in supply led to gasoline inventories along the Gulf Coast region (PADD 3) rising to well above normal levels for that time of year.
Rocky Mountains (Denver) Retail prices in the Rocky Mountain also peaked in early spring, just as they did in several cities this year. Prices bottomed out in late January, although they were relatively low throughout the first part of the year. Of the cities for which EIA publishes data, Denver was the only city that had an average price below $3.00 per gallon on any of EIA's weekly surveys in 2012, with prices below that threshold on January 16, January 23, January 30, and again during the last day of the year.
West Coast (Los Angeles, San Francisco, and Seattle)
Retail prices rose in Los Angeles and San Francisco in the spring following refinery outages, but peaked in early October at around $4.70 per gallon following other refinery outages. In Seattle, prices peaked in early June, as yet another refinery outage reduced Seattle's gasoline supplies. Prices in all three West Coast cities bottomed out in mid-December, when an increase in supply led to gasoline inventories along the West Coast (PADD 5) rising rapidly, reaching well above normal levels for that time of year.