January 10, 2013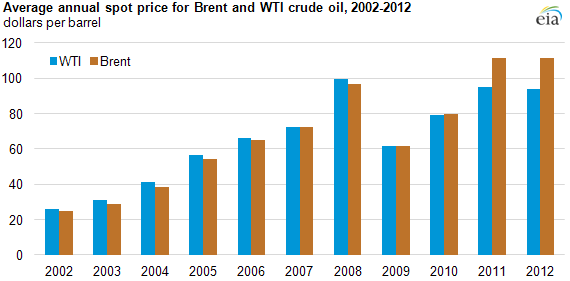 ---
Average crude oil prices in 2012 were at historically high levels for the second year in a row. Brent crude oil averaged $111.67 per barrel, slightly above the 2011 average of $111.26. West Texas Intermediate oil averaged $94.05 per barrel in 2012, down slightly from $94.88 in 2011.
The differential between Brent and WTI spot prices historically was just a few dollars per barrel in either direction. In 2011, the Brent premium over WTI averaged $16.38 per barrel; however, in 2012 this premium widened to $17.61 per barrel.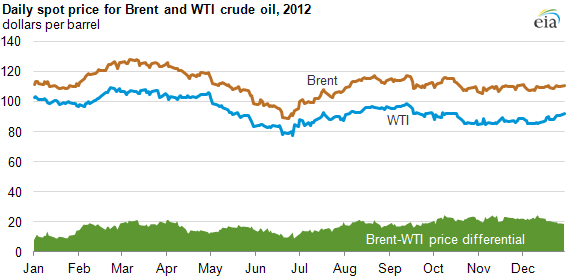 ---
The significant events in 2012 include:
U.S. crude oil production rose by an estimated 780,000 barrels per day (bbl/d) in 2012, the largest yearly increase to date.
The surge in crude oil production led to crude oil stocks held in land-locked Cushing, Oklahoma, which is a major pricing point for crude oil, that resulted in record-high end-of-month stock levels from April through December.
The United States remained a significant net oil importer when levels of crude oil and petroleum products are added together.
After Brent fell below $90/bbl in late June and WTI dropped below $80/bbl, prices rebounded in July on expectations that policymakers in the United States, Europe, and China would take action to stimulate economic growth, which could increase oil demand.
Disruptions in oil production in South Sudan, Yemen, Syria, and the North Sea reduced available global supplies, putting upward pressure on oil prices.
Tomorrow's Today in Energy article will examine trends in retail gasoline and diesel prices in 2012.