August 2, 2012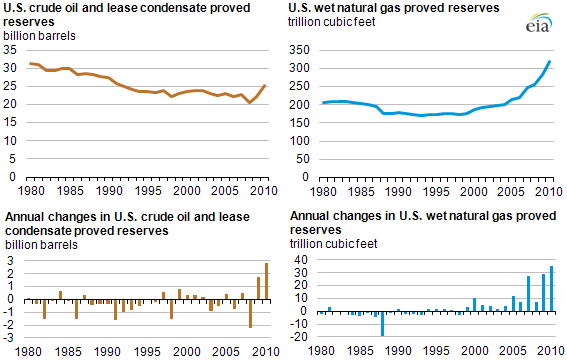 ---
On August 1, the U.S. Energy Information Administration (EIA) released its summary of the nation's proved reserves of oil and natural gas for 2010. Proved reserves of both oil and natural gas in 2010 rose by the highest amounts ever recorded in the 35 years EIA has been publishing proved reserves estimates.
Technological advances in drilling and higher prices contributed to gains in reserves. The expanding application of horizontal drilling and hydraulic fracturing in shale and other "tight" (very low permeability) formations, the same technologies that spurred substantial gains in natural gas proved reserves in recent years, played a key role. Further, rising oil and natural gas prices between 2009 and 2010 likely provided incentives to explore and develop more resources.
Oil proved reserves (which include crude oil and lease condensate) rose 12.8% to 25.2 billion barrels in 2010, marking the second consecutive annual increase and the highest volume since 1991. Natural gas proved reserves (estimated as "wet" natural gas, including natural gas plant liquids) increased by 11.9% in 2010 to 317.6 trillion cubic feet (Tcf), the twelfth consecutive annual increase, and the first year U.S. proved reserves for natural gas surpassed 300 Tcf.
Proved reserves reflect volumes of oil and natural gas that geologic and engineering data demonstrate with reasonable certainty to be recoverable in future years from known reservoirs under existing economic and operating conditions. It should be noted that the 2010 summary was delayed due to budgetary restrictions that limited EIA's survey data collection efforts.