July 23, 2012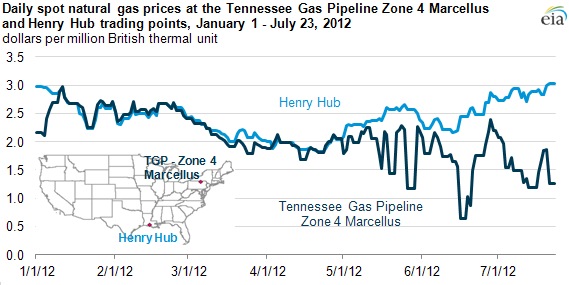 Source: U.S. Energy Information Administration based on Bloomberg, L.P.


---
Daily natural gas spot prices between Tennessee Gas Pipeline (TGP) Zone 4 Marcellus and Henry Hub have diverged recently largely due to rising Marcellus production, which has outpaced the growth of available take—away pipeline capacity in northern Pennsylvania. As a result, the spot price of natural gas at the TGP Zone 4 Marcellus trading point has fallen—at times considerably—below the spot price at Henry Hub in Louisiana, and is currently the least expensive wholesale natural gas in North America.
To address this rapid growth in natural gas production, several Northeast interstate pipeline projects were completed in 2011, adding nearly 1.5 billion cubic feet per day (Bcf/d) of capacity in Pennsylvania. Many additional pipeline projects have been proposed or are in various stages of completion in the Northeast to reduce transportation constraints caused by growing Marcellus natural gas production. EIA's website has information on the status of some of these pipeline projects.
Dry natural gas production in Pennsylvania, a key part of the Marcellus supply basin, continues to grow and according to Bentek Energy is now approaching 6 Bcf/d. Estimated June 2012 Marcellus dry natural gas production (5.7 Bcf/d) has nearly doubled since June 2011 (2.9 Bcf/d) and represents about 9% of overall U.S. dry natural gas production. Further, Bentek Energy estimates that there are over 1,000 natural gas wells that have been drilled in northern Pennsylvania but which are not yet producing natural gas because there is not enough interstate and gathering pipeline infrastructure to accommodate the new production.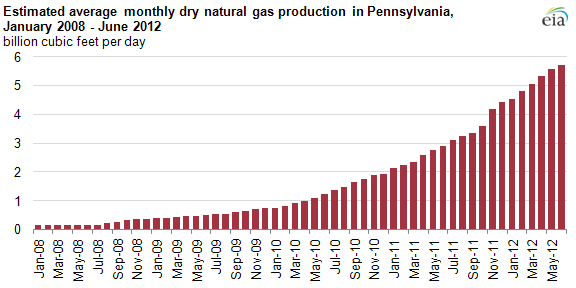 Source: U.S. Energy Information Administration based on Bentek Energy, LLC.
Note: Reflects monthly averages of Bentek Energy's daily estimates of dry natural gas production for the state of Pennsylvania. These figures exclude a small amount of natural gas production received directly by local distribution companies and end users via gathering lines that are not subject to Federal Energy Regulatory Commission posting requirements for interstate natural gas pipelines.

---