July 11, 2012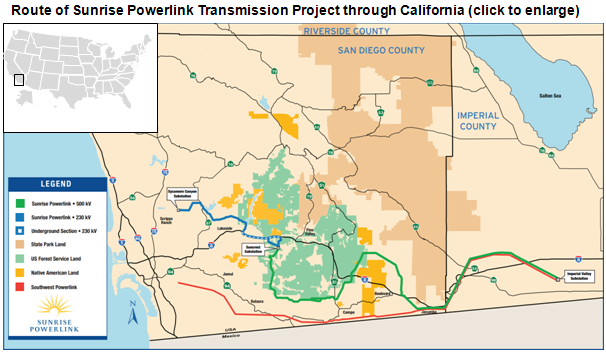 ---
The Sunrise Powerlink Transmission project, which came online on June 18, 2012, adds approximately 800 megawatts (MW) of transmission capability to the Southern California electric grid. The new transmission lines, shown as blue and green lines on the map, will bring renewable energy from Imperial County to San Diego. The additional transmission capability will also help the Southern California electric grid address this summer's capacity shortage that resulted from the unplanned outages at the San Onofre nuclear generation station located near San Diego.
San Diego Gas and Electric, the owner and operator of this transmission line, announced on June 18, 2012 the activation of this 500 kilovolt transmission line. The project cost approximately $1.9 billion dollars and will eventually have a capacity of 1,000 MW.
The Imperial County region has significant solar, geothermal, and wind resources. The transmission line connects two proposed solar photovoltaic facilities under construction by Tenaska Solar Ventures as well as Pattern Energy's operating Ocotillo Wind Energy Facility—all of which are located in Imperial County. The Sunrise Powerlink path is indirect, skirting the Cleveland National Forest and the Campo Reservation as well as other sensitive ecological habitats.
The Sunrise project included the construction of the Suncrest substation (shown on the map at the intersection of the green and blue lines) as well as upgrades to seven other substations along the path through the control area of the Imperial Irrigation District. The project also interconnected with the control area of Southern California Edison's Edison International transmission system.
California imports significant supplies of electricity from neighboring systems, making transmission capability a critical reliability concern.