May 14, 2012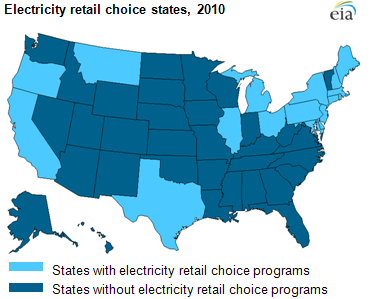 Source: U.S. Energy Information Administration.

---
Seventeen states and the District of Columbia have adopted electric retail choice programs that allow end-use customers to buy electricity from competitive retail suppliers. While residential customer participation rates are low in almost all of these states, a majority of commercial customers have signed up with competitive suppliers in 9 states and a majority of industrial customers have signed up in 12 states. The highest participation rates are found in the Northeast, Mid-Atlantic states, and Texas where electricity is supplied through Regional Transmission Organizations (RTOs) and states have unbundled generation from retail delivery and sales.
Below are state-by-state percentages of residential, commercial, and industrial sales volumes by competitive suppliers for 2010 (the most recent data available from the Form EIA-861 survey). Overall, competitive retail suppliers provided 16% of total U.S. retail sales by volume in 2010.
Retail sales for Texas are not shown below since participation is mandated for all customers served by investor-owned utilities located within the ERCOT region that covers much of the state. Participation is not mandated for municipal and cooperative utilities within ERCOT. About 60% of residential, commercial, and industrial customers in Texas buy electricity from competitive suppliers.