April 30, 2012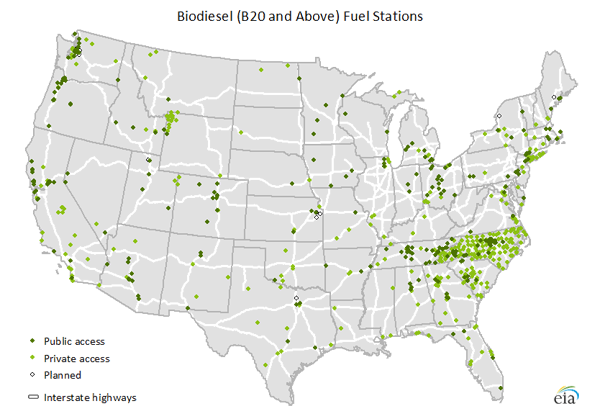 Although gasoline remains by far the dominant transportation fuel, a variety of alternative fuels are currently in use, primarily by government and private fleets. These fuels include electricity, propane, higher ethanol-gasoline blends (E85), hydrogen, and natural gas. In aggregate, there are currently about 10,000 alternative fuel stations in the United States, compared to approximately 160,000 gasoline stations in the country.
Click on the tab headers below to see maps of the different types of alternative transportation fuel stations in the lower 48 states.
Several alternative fuels have been developed for use in motor vehicles. Most alternative fuels require vehicles specifically made to handle that fuel, such as electric vehicles. Other fuels such as E85 (a gasoline blend with up to 85% ethanol) may be used in flex-fuel vehicles. The use of alternative fuels often requires new refueling station infrastructure. The maps above show the distribution of alternative fuel stations across the lower 48 states.

Source: U.S. Energy Information Administration, based on U.S. Department of Energy (DOE), Alternative Fuels & Advanced Vehicles Data Center, as of March 27, 2012.
Note: LNG is liquefied natural gas, CNG is compressed natural gas, and E85 is a type of gasoline-ethanol blend.

---
The Alternative Fuels & Advanced Vehicles Data Center (a DOE program initiative) provides many resources for learning about alternative fuels and tools for locating alternative fuel stations.