April 10, 2012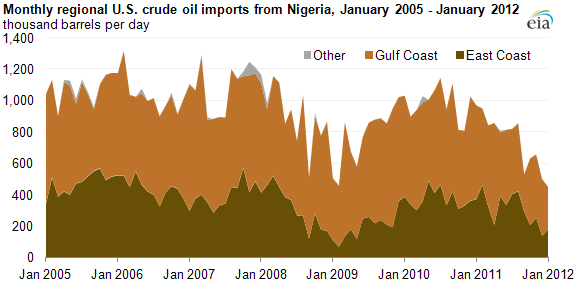 ---
The trend of declining crude oil imports into the United States continued in the first month of 2012. There has been a particularly sharp decline in imports from Nigeria due to the idling in late 2011 of two refineries on the East Coast, which were significant buyers of Nigerian crude, and reduced imports by refiners on the Gulf Coast. Prior to the idling of the refineries, Nigeria typically accounted for about 10% of the crude oil imported into the United States; in January, that share dropped to about 5%.
In January 2012, imports from Nigeria totaled just 449 thousand barrels per day (bbl/d), a 54% (519 thousand bbl/d) decrease from January 2011, marking the lowest monthly import total from the country since 2002. One third of this decline was the result of two idled Philadelphia-area refineries. ConocoPhillips' Trainer refinery (idled in September 2011) and Sunoco's Marcus Hook refinery (idled in December 2011) imported a combined 173 thousand bbl/d of Nigerian crude in January 2011. Most of the remaining decrease in Nigerian imports was the result of several Gulf Coast refiners reducing Nigerian imports in favor of domestically-produced crude.
The idled refineries were suited to run light-sweet crude oils, and Nigerian crude oils tended to match well with that requirement. However, because of their quality, Nigerian crude oils are often expensive compared to heavier or more sour crude oils used by many of the Gulf Coast refineries. Additionally, Nigerian crudes are currently expensive compared to some of the inland domestic light-sweet crudes of similar quality such as West Texas Intermediate (WTI), Bakken, and Eagle Ford. Given the growing production from the Bakken and Eagle Ford formations and associated transportation constraints, these inland crudes have been selling at a discount to waterborne crudes on the Gulf Coast, providing refiners in that area further incentive to switch from imported crude to inland, domestically-produced crude when available.
Preliminary weekly data indicate the trend of decreasing Nigerian imports continued in February and March with March imports averaging just 301 thousand bbl/d, which, if confirmed in the monthly data, would represent a 64% decrease compared to March 2011.