March 18, 2011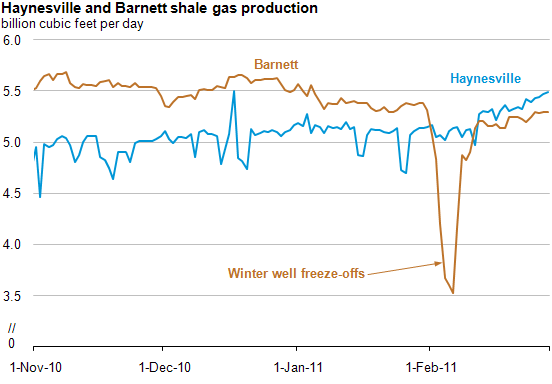 Download CSV Data
---
The Haynesville Shale in Louisiana recently surpassed the Barnett Shale in Texas as the Nation's highest-producing shale gas play, according to reported pipeline flows. Natural gas production from the Louisiana section of the Haynesville overtook the Barnett's volumes in early to mid-February, even after the Barnett's recovery from the winter's well freeze-offs. The Barnett Shale has been the country's leading shale gas producer during the past decade.
Several factors have contributed to the Haynesville's favorable positioning:
Gas-directed drilling continues to increase sharply in the newer Haynesville play, while flattening somewhat at the more mature Barnett play. As gas-directed drilling in the Barnett slows and natural gas prices remain relatively low, operators are turning their attention to the more liquids-rich areas of the play, thereby reducing the emphasis on gas.
Experience gained from early horizontal drilling programs at the Barnett has helped the Haynesville operators ramp up natural gas production far more rapidly. Based on reported pipeline flows, it took nearly a decade of shale-focused drilling to reach 5 billion cubic feet (Bcf) per day at the Barnett; that threshold was surpassed at the Haynesville in less than three years. Technology-driven efficiency gains have enabled the Haynesville producers to reach that level with far fewer wells.
Regional infrastructure is expanding to accommodate the Haynesville's rising natural gas production. For example, pipeline capacity expansions were recently completed on the Regency, Midcon Express, and Gulf Crossing systems, each of which transports Haynesville gas.