April 5, 2023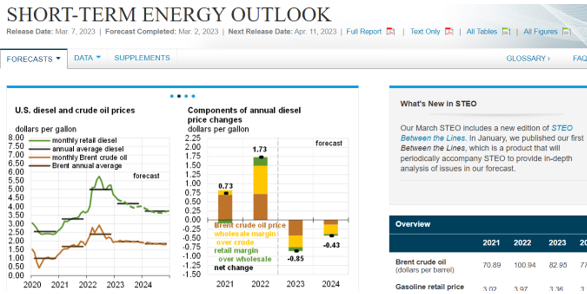 ---
Our Short-Term Energy Outlook (STEO) publication provides near-term energy data, analysis, and forecasts. Each month, the STEO provides forecasts from the time of publication through December of the next calendar year. The STEO forecasts consumption, production, trade, and prices across major fuel types and also provides in-depth analysis for crude oil, petroleum products, and natural gas markets. Although its focus is on U.S. energy markets, the STEO also forecasts certain international liquid fuels.
Historical data underpinning the STEO forecast each month come from our publications, including the Petroleum Supply Monthly, the Electric Power Monthly, the Natural Gas Monthly, and the Weekly Natural Gas Storage Report. Each STEO forecast also relies on external data sources for information such as weather data from the National Oceanic and Atmospheric Administration (NOAA), spot and futures market prices, and global and U.S. macroeconomic indicators.
Economic models are the foundation for the STEO forecast. In the STEO, we also incorporate analyst judgment to account for recent market developments. These events could include regulatory changes, extreme weather, supply and demand disruptions, and pipeline or fuel distribution constraints.
Principal contributor: EIA Staff