March 8, 2012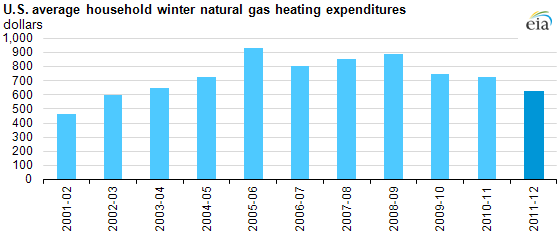 ---
U.S. household expenditures for natural gas this winter are on track to be the lowest in nine years, due mainly to warmer-than-normal temperatures this winter, according to EIA projections. Residential and commercial customers are consuming less natural gas in their furnaces due to mild temperatures. The pass-through of lower wholesale prices for natural gas into rates paid by retail customers may also be reducing expenditures. Natural gas is the most common heating fuel used in American homes, with about half of households using gas for their main source of warmth.
The average U.S. household is expected to pay about $629 to heat with natural gas this winter, down 13% from last winter and the lowest projected gas heating expense since $599 for the 2002-2003 winter, according to EIA's revised heating fuels costs in its March Short-Term Energy Outlook (see chart above).
Residential heating expenses also are expected to be nearly 3% lower for heating oil, 9% lower for propane, and 5% lower for electric heat. This marks the first winter in 10 years that household expenditures would be less for all four major heating fuels.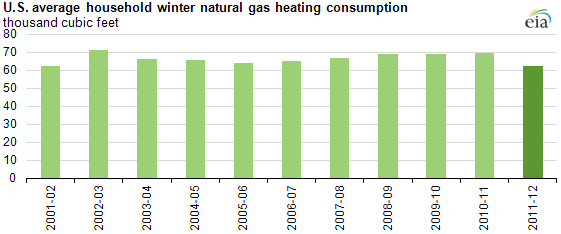 ---
Mild weather is the big driver of lower natural gas expenditures this winter for households. As a result of above-normal temperatures this winter, EIA projects that households will need less natural gas for heating, consuming an average level of about 62.3 thousand cubic feet this winter. That's down more than 10% from the level used last winter and the lowest estimated household winter natural gas heating use in more than 10 years (see chart above).
The number of heating degree days from October through February was down 11% compared to the 30-year average.
Lower wholesale, spot natural gas prices this winter are only partially reflected in this winter's expected household natural gas expenditures. There are two major reasons for this:
Fixed costs. A significant portion of customer charges levied by local distribution companies (LDCs)—the primary deliverer of natural gas for home and commercial heating—reflect fixed costs, and therefore are largely independent of weather and wholesale market price trends. Some examples of key fixed costs include: reservation fees to recover the capital costs associated with transmission and distribution service and charges to secure firm access to natural gas storage fields.
Portfolio procurement. Many LDCs use a portfolio approach when buying natural gas—their biggest variable cost. LDCs typically buy the natural gas commodity using a variety of services—depending on factors such as their load profile/customer mix, geographic location, risk preferences, and regulatory flexibility. LDCs generally aim to secure a reliable supply of natural gas at market prices. Common strategies involve buying natural gas on a monthly basis; purchasing spot natural gas in the summer and injecting in storage fields for ultimate withdrawal in the winter; hedging with futures contracts and/or basis swaps; or buying physical natural gas under longer term arrangements such as seasonal (November through March) or one-year or longer deals. However structured, the use of portfolio approaches in buying natural gas means that the current spot price is not necessarily a direct indicator of the actual commodity costs that households will have to pay for natural gas.