February 25, 2022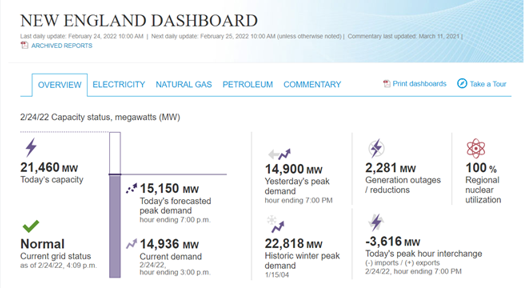 ---
To increase customer understanding of energy interrelationships among electricity, natural gas, and petroleum products in New England, we provide an interactive dashboard that shows energy market and weather conditions in that region. The dashboard helps analysts and interested participants examine many key aspects of wholesale energy markets in New England.
We update our New England Dashboard every day by 10:30 a.m. eastern time, including weekends. The dashboard includes information on:
Regional temperatures
Various fuel prices
Locational marginal prices of electricity
The status of the electric grid, outages, and available capacity
Current and projected electricity loads
Liquefied natural gas (LNG) imports
The electricity generation fuel mix
Interregional electric transmission and natural gas flows
Petroleum product stocks
Sources for the dashboard are a mix of real-time, daily, and monthly information and include both EIA and third-party data. Key series from third-party sources include:
Actual and forecast temperatures from the National Oceanic and Atmospheric Administration
Various electric price, load, generation, interchange, operating statistics, and fuel mix information from the Independent System Operator New England (ISO-NE)
Natural gas demand, LNG imports, and natural gas pipeline flows from IHS Markit
Crude oil and petroleum product prices from Refinitiv
Spot natural gas and electricity prices from S&P Global Market Intelligence
The commentary section provides analysis of recent New England energy market conditions when a situation warrants more insight.
Principal contributor: EIA Staff