December 17, 2019
---
Earlier this year, the U.S. Energy Information Administration (EIA) added forecasts of wholesale electricity prices at hubs in 11 electricity supply regions in the Lower 48 states to its Short-Term Energy Outlook (STEO). EIA also began to forecast average peak-period wholesale electricity prices for each of these STEO electricity supply regions. In addition to the new wholesale price forecasts, the STEO expanded its forecasts of electric power generation and fuel consumption for these 11 regions, Hawaii, and Alaska.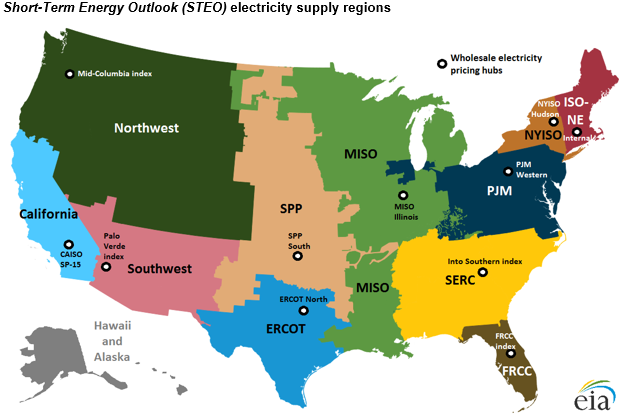 Source: U.S. Energy Information Administration
---
EIA generally expects the wholesale price for electricity in 2019 to be lower than last year, primarily as a result of lower costs for natural gas as a fuel for power generation. The largest forecast annual decline in wholesale electricity prices will occur at ISO New England hub in Massachusetts, where EIA expects that prices will fall by 30% in 2019 to an annual average of $35 per megawatthour (MWh).
Conversely, EIA expects the only annual increase at any of the 11 hubs in wholesale electricity prices to occur at the Electric Reliability Council of Texas (ERCOT) North hub in Texas, where the annual average price is expected to rise by 38% in 2019 to $57/MWh because of particularly high prices in August and September. EIA will release a new STEO forecast through 2021, along with an expanded forecast discussion, on January 14, 2020.
Principal contributor: Tyler Hodge