December 4, 2019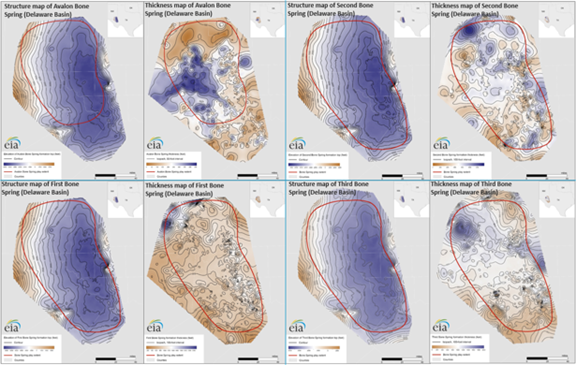 ---
The U.S. Energy Information Administration (EIA) has released new maps and geologic information for the Bone Spring play in the Delaware Basin, which spans from southeastern New Mexico to western Texas. The updated information includes formation geology, deposition history, and regional tectonic features. The Delaware Basin is in the western part of the larger Permian Basin, one of the most prolific areas for oil and natural gas production in the United States.
The Bone Spring formation lies directly under the Delaware Mountain Group and over the Wolfcamp formation. The Bone Spring formation consists of interbedded (settled between existing layers) siliciclastic, carbonate, and shale rocks up to 4,000 feet thick and is divided into four intervals. These intervals are named, from top to bottom, the First, Second, and Third Bone Spring. The Avalon shale is within the First Bone Spring carbonate.
Each interval has very low permeability, which means that oil and natural gas cannot flow easily. Recent advances in completion techniques have increased oil recovery factors to as high as 34%, meaning 34% of the estimated resource base in an area is produced.
With the introduction of hydraulic fracturing and horizontal drilling, hydrocarbon production has increased considerably in the Bone Spring. The number of producing wells in Bone Spring grew from 436 wells in January 2005 to 4,338 wells in mid-2019. These wells have become more productive over time: average initial daily crude oil production per well for the first six months of operation increased from 67 barrels per day (b/d) in 2005 to 770 b/d in 2019. In that same period, average natural gas production per well for the first six months of operation grew from 0.1 million cubic feet per day (MMcf/d) to 1.6 MMcf/d.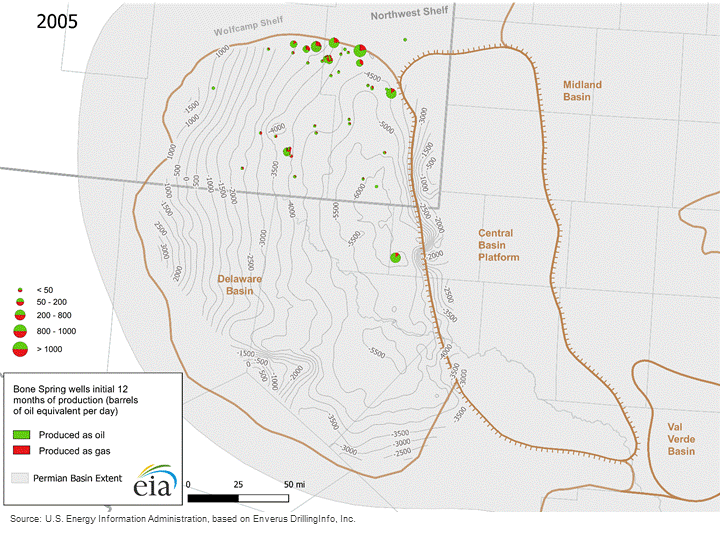 In August 2019, average monthly production from Bone Spring reached 0.6 million barrels of crude oil and 1.7 billion cubic feet of natural gas per day. EIA expects Bone Spring production to continue to drive production growth in the Permian Basin. Additional pipeline takeaway capacity is coming online through 2020 to accommodate the production increase.
EIA's Maps: Oil and Gas Exploration, Resources, and Production page compiles the maps EIA has added or updated for the Bone Spring formation and other major shale plays.
Principal contributors: Olga Popova, Emily Geary, April Patel, Julie Cohen