August 29, 2019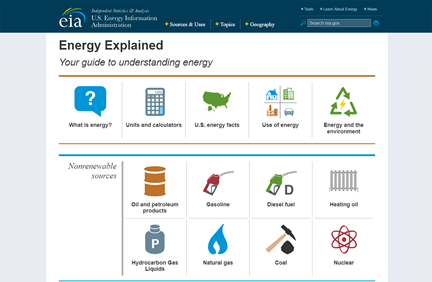 Source: U.S. Energy Information Administration
---
The U.S. Energy Information Administration's (EIA) redesigned Energy Explained resource includes enhanced navigation features, a more user-friendly interface, interactive data visualizations, and more.
One of EIA's most popular products, Energy Explained is EIA's comprehensive guide to understanding energy. In addition to highlighting energy uses and trends, Energy Explained provides detailed descriptions of nonrenewable energy sources (such as oil, natural gas, and coal), renewable energy sources (such as biomass, hydropower, geothermal, solar, wind, ocean thermal, wave action, and tidal action), and secondary energy sources made from other energy sources (mainly electricity).
New graphing tools allow users to download Energy Explained graphs as image, PDF, and CSV files. Users can mouse over graphs, maps, and charts on their desktops or tap on mobile phones and tablets to review detailed information and data.
Energy Explained contains 168 articles, and the new layout and navigation makes it easier for the public to learn more about energy and its interaction with the economy and the environment.
Principal contributors: Dale Sweetnam, Olivia Clark