November 8, 2011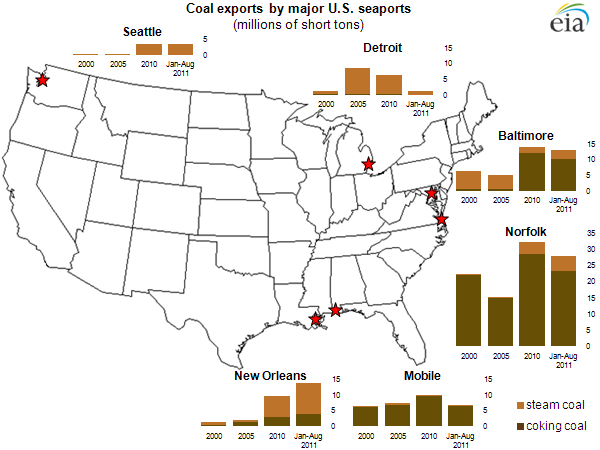 Source: U.S. Energy Information Administration, based on U.S. Census Bureau.
Note: 2011 data is through August, the latest data available.
Download CSV Data
---
Seaports in the Gulf Coast and East Coast account for most U.S. coal exports. Six seaports accounted for 94% of U.S. coal exports in 2010, up from 63% in 2000. Over 68% of total U.S. coal exports in 2010 were coking coal, which is used in making iron and steel. Steam coal, used to generate electricity, comprised the remaining 32% of exports.
The seaport at Norfolk, Virginia—America's largest coal export facility—processes approximately 40% of U.S. coal exports. Norfolk exported 32 million short tons of coal in 2010. Norfolk has consistently remained the largest export facility, servicing approximately one-third to one-half of U.S. coal exports since 2000.
The next largest export terminal (at its peak) was Detroit, Michigan, which in 2006 accounted for 28% of U.S. exports. Since 2008, however, Detroit, Michigan coal exports have fallen more than 90% from a high of over 16 million tons. Smaller ports in the region, such as Cleveland, Ohio, have seen similar declines as Midwest shipments, predominately steam coal destined for Ontario, Canada, which have fallen sharply as a result of Canadian legislation affecting coal power plants in the province.
Despite falling Midwest exports, overall U.S. coal exports have been resurgent, reaching nearly 71 million tons in the first eight months of 2011—the highest level in decades—driven by high global demand and significant weather disruptions of Australian coal exports. Combined annual exports from Norfolk, Virginia and Baltimore, Maryland increased 18 million tons from 2000 to 2010. For the first eight months of 2011, New Orleans, Louisiana coal exports grew 980% above the 2000 level and surpassed the record 2010 level by nearly 50% despite flooding along the Mississippi River disrupting barge traffic. Coal exports from Seattle, Washington have also risen sharply in recent years as significant coal production in the Powder River Basin seeks access to growing Asian coal markets.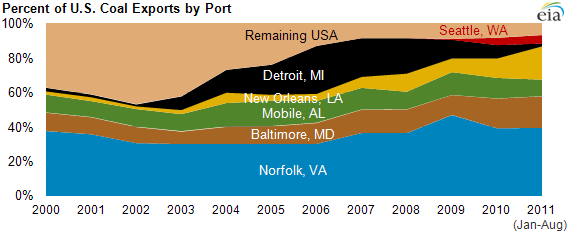 Source: U.S. Energy Information Administration, based on U.S. Census Bureau.
Note: 2011 data is through August, the latest data available.
Download CSV Data
---