October 7, 2011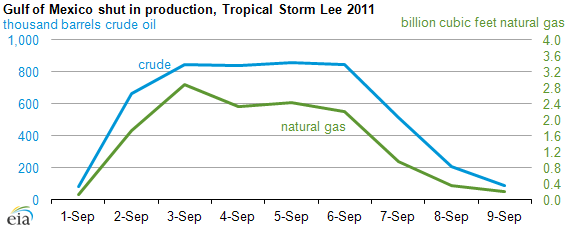 ---
While hurricanes in 2005 and 2008 had extensive and long-lasting impacts on oil and natural gas production in the Gulf of Mexico (GOM) and refining activity along the Gulf Coast, the temporary disruption of production experienced during Tropical Storm Lee is more typical of the impact with hurricane season storms that do not significantly damage energy infrastructure.
Evacuation of personnel from platforms and rigs began on September 1 in anticipation of approaching Tropical Storm Lee. The Bureau of Ocean Energy Management, Regulation and Enforcement (BOEMRE) reported that a cumulative total of nearly 5 million barrels of crude oil and over 13 billion cubic feet (Bcf) of natural gas production had been shut in through Friday, September 9 and that shut-ins peaked on September 3, when 60.3% of crude oil and 54.6% of natural gas production from platforms and rigs in the GOM were off-line. Crude oil production in the Federal Gulf of Mexico region is typically about 1.5 million barrels per day, and represents about 27% of total domestic crude oil production.
Production shut downs and recovery at these platforms and rigs take several days. So, although the storm crossed through the region over the weekend of September 3-4, some rigs and platforms were closed down before and after the storm moved through the area. For the 2011 hurricane season, BOEMRE assumed GOM maximum daily production rates of 1.4 million barrels of crude and 5.3 Bcf of natural gas when the region is unaffected by weather or other disruptions.
The GOM hurricane season typically runs from June through November. Tropical Storm Lee was not the first summer storm in the region. Tropical Storm Don was active at the end of July, taking over 500,000 barrels of crude and 1.1 billion cubic feet of natural gas offline. Total cumulative GOM production losses for oil and natural gas so far this year due to storms are similar to the relatively low levels in 2009 and 2010.
---
The 2005 hurricane season resulted in record oil and natural gas production outages in the GOM. A total of 12 hurricanes passed through the area contributing to production shut-ins. Hurricanes Katrina and Rita, both category 5 hurricanes, caused a combined total of over 100 million barrels of crude and more than 500 Bcf of natural gas shut-ins. Both of these outages persisted for several weeks and included many days of no production. The 2008 outage levels rank second to the outages experienced in 2005. In 2008, Hurricanes Ike and Gustav, both category 4 storms, shut in nearly 60 million barrels of crude oil and 350 Bcf of natural gas production.