November 22, 2017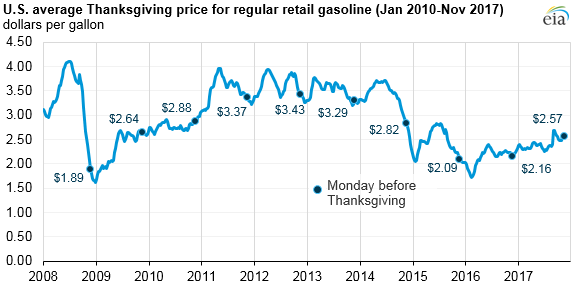 ---
Heading into the Thanksgiving holiday weekend, U.S. retail regular-grade gasoline averaged $2.57 per gallon (gal), up 41 cents/gal from the same time last year. Although gasoline prices are higher than in both 2015 and 2016, the Thanksgiving 2017 gasoline price is still the third-lowest since 2008.
The Thanksgiving holiday weekend is one of the heaviest travel times of the year. AAA forecasts 50.9 million people will be traveling 50 miles or more for the holiday this year, 1.6 million more travelers than last year and the most since 2005. Of the 50.9 million total travelers, AAA expects that 45.5 million of them will drive, an increase of nearly 1.5 million over last year.
Gasoline prices across the country reflect differences in taxes, fuel specifications, and regional market supply and demand balances. Based on data for the selected major metropolitan areas surveyed in EIA's Gasoline and Diesel Fuel Update, retail gasoline prices as of November 20 range from a low of $2.18/gal in Houston, Texas, to a high of $3.26/gal in San Francisco, California.
---
In 2017, retail gasoline prices as a whole remained relatively stable until significant refinery operations were interrupted because of Hurricane Harvey in late August. In the wake of that hurricane's landfall, the U.S. average regular retail gasoline price increased 28 cents per gallon, from $2.40/gal on August 28 to $2.68/gal on September 4, based on weekly data collected in EIA's Gasoline and Diesel Fuel Update.
Gasoline prices continue to be closely linked to crude oil prices. The spot price for Brent, a key global crude oil benchmark, was $62.94 per barrel as of November 13, more than $21 per barrel higher than the price from the same time last year.
EIA's November Short-Term Energy Outlook forecasts that both crude oil and gasoline prices will decrease in the coming months, with U.S. average gasoline prices reaching a low of $2.31/gal in January 2018. Retail gasoline prices are forecast to average $2.45/gal in 2018, compared to $2.40/gal in 2017.
Principal contributors: Matt French, Hannah Breul