March 2, 2011
Global Oil Chokepoints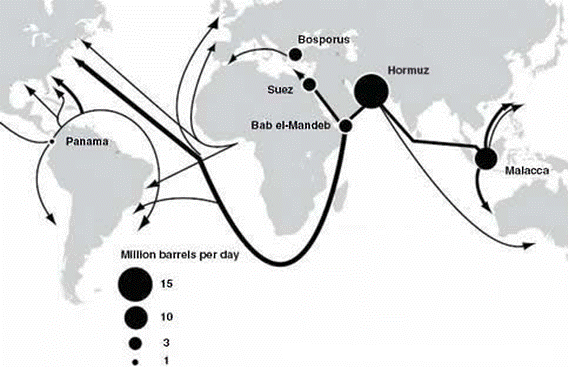 Source: U.S. Government Accountability Office
Note: Circles represent millions of barrels per day transported through each chokepoint. Arrows represent common petroleum maritime routes.
---
Maritime transit chokepoints are narrow channels along widely used global sea routes. Because about one half of the world's crude oil supply is moved by tankers on maritime shipping routes, world oil transit chokepoints are a critical part of global energy security.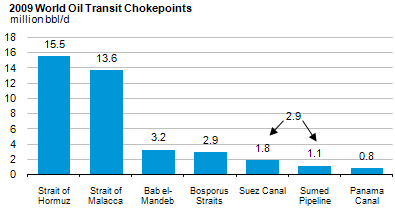 Source: EIA (data estimates based on APEX tanker data)
The international market is dependent upon reliable transport. The blockage of a chokepoint, even temporarily, can lead to a substantial disruption in energy markets.
Closure of some chokepoints would require the use of longer alternate routes, thereby increasing transportation costs, but for other chokepoints, there are limited alternate routes. As a result, there are existing, planned and proposed pipelines in many of these areas to bypass such chokepoints. EIA has compiled and analyzed data for seven major world oil transit chokepoints, summarized below:
Also, the Danish Straits are becoming an increasingly important route for Russian oil exports to Europe. In 2009, an estimated 3.3 million bbl/d of oil flowed westward through this waterway.