June 30, 2017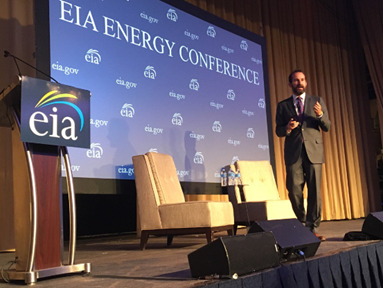 Source: Dale Sweetnam, U.S. Energy Information Administration
---
EIA just held its annual energy conference in Washington, DC on June 26 and 27. More than 900 attendees from business, industry, academia, and government were on hand to discuss a wide range of energy issues.
EIA's 2017 conference featured 12 sessions, ranging in topic from electricity markets to petroleum exports to energy data transparency. Presentations from each of the conference sessions are now available on EIA's website.
U.S. Department of Energy Secretary Rick Perry; Representative Greg Walden, Chairman of the House Committee on Energy and Commerce; and Commissioner Colette Honorable of the Federal Energy Regulatory Commission provided keynote remarks from a policy perspective. Alex Laskey, President and Co-Founder of Opower; Scott Sheffield, Executive Chairman of Pioneer Natural Resources; and Dr. Sun Xiansheng, Secretary General of the International Energy Forum offered keynote views addressing energy production, consumption, and data topics.
EIA is already planning its next annual conference and welcomes your input. Suggestions for the 2018 conference as well as comments on the 2017 edition can be emailed to conference@eia.gov.
Principal contributor: Dale Sweetnam