March 1, 2011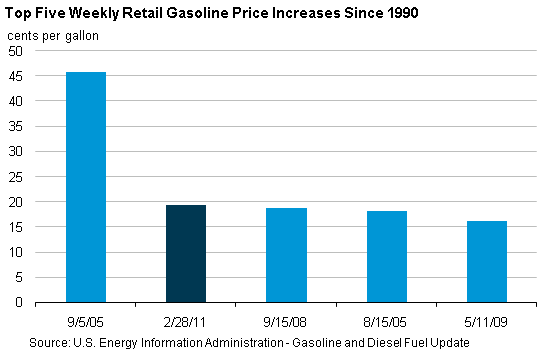 Download CSV data
---
The national average retail price for regular grade gasoline on Monday, February 28, was $3.38 per gallon, an increase of 19 cents per gallon from the previous Monday, according to EIA's weekly Gasoline and Diesel Fuel Update. This was the second largest one-week increase since EIA began tracking weekly retail gasoline price data in 1990. The only week posting a larger one-week increase was in September 2005 when retail prices rose sharply due to Hurricane Katrina.
This is the highest weekly national average retail price with a February calendar date since EIA began tracking weekly price data in 1990. However, it is still well below the all-time record of $4.11 per gallon, set on July 7, 2008.
Many factors affect retail gasoline prices, but changing prices for domestic and global crude oils are particularly important. Typically, a $10 per barrel change in the spot price of crude oil translates into about a 24 cent per gallon change in the retail price of gasoline within about two months. About half of that price change usually occurs within the first two weeks of the crude oil price change.
From the beginning of 2011 through February 18 - just before the Libyan crisis began - the spot price of Brent crude oil increased about $9 per barrel from $93 per barrel to $102 per barrel. Since then, the price of Brent crude oil has increased by a further $10 per barrel.