September 13, 2011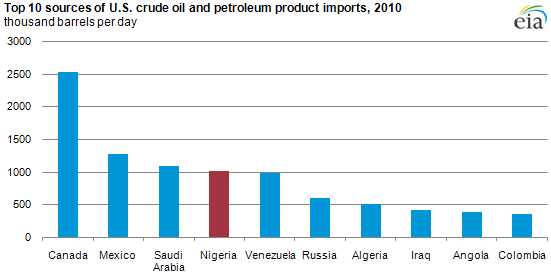 ---
In 2010, Nigeria exported over one million barrels per day (bbl/d) of crude oil and petroleum products to the United States (980,000 bbl/d of crude oil), representing 9% of U.S. total crude oil and petroleum product imports and over 40% of Nigerian exports. The light, sweet quality of Nigerian crude makes it a preferred gasoline feedstock. More recently, Nigerian crudes have been viewed as a potential substitute to lost volumes of Libyan crude, increasing their price premium on global markets.
As a member of the Organization of Petroleum Exporting Countries (OPEC), Nigeria has crude oil production limits or quotas that have varied over the years but which are currently set at 1.673 million bbl/d. However, OPEC's quotas do not appear to have affected production volumes or investment decisions as much as unrest in the Niger Delta. Recent offshore oil developments combined with the restart of some shut-in onshore production have increased crude production slightly to an average of 2.17 million bbl/d for the month of July 2011.
As a result of attacks on oil infrastructure, Nigeria's production is often significantly below EIA's 2.9 million bbl/d estimate of the country's nameplate crude oil production capacity. For example, in 2010, Nigerian crude oil production averaged only about 2.15 million bbl/d (2.46 million bbl/d of total oil).
Since December 2005, Nigeria has experienced significant pipeline vandalism, kidnappings and militant takeovers of oil facilities in the Niger Delta. Additionally, kidnappings of oil workers for ransom are common, and the Gulf of Guinea is an area that has seen incidents of piracy. While the instability has shut in large volumes of Nigerian production, exports to the United States have remained relatively stable in recent years.
With an estimated 37.2 billion barrels of proven oil reserves, and several new offshore projects scheduled to come online, Nigeria's oil production could continue to increase in the medium-term, but the timing of these startups will depend heavily on a much-debated Petroleum Industry Bill in Nigeria and the changes in fiscal/regulatory terms it will have on the oil industry.
EIA's recently released Country Analysis Brief for Nigeria features additional analysis on these trends, along with a broad discussion of Nigeria's energy sector.