September 8, 2011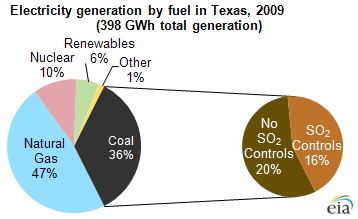 ---
Starting in 2012, power plants in 23 states must meet new sulfur dioxide (SO2) emissions caps in order to comply with the Cross State Air Pollution Rule (CSAPR). Including Texas in CSAPR was a key difference between the final rule and the draft version released last year. The rule requires power plants in Texas to reduce SO2 emissions 53% below 2010 levels by 2012. Almost all SO2 emissions attributed to the power sector in Texas come from coal plants that do not have flue gas desulfurization (FGD or scrubber) units installed. Eleven percent of the available electric capacity in Texas consists of coal plants without scrubbers, and those plants generated 20% of the state's electricity in 2009.
Potential compliance strategies to meet CSAPR include switching to a lower sulfur coal or curtailing coal plant operations and replacing that generation with other sources that emit less or no SO2.
The Electric Reliability Council of Texas (ERCOT) and several power plant owners in the state have expressed concern that the rule would limit operations from plants without FGD scrubbers, and this might reduce reliability. The recent heat wave in Texas has strained the electricity supply system, breaking previous load records.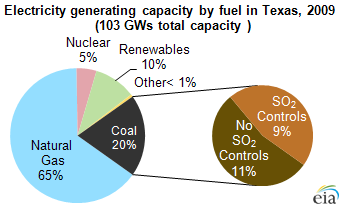 ---