March 14, 2016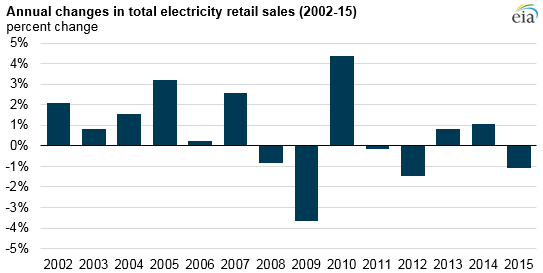 ---
Total electricity sales in 2015 fell 1.1% from the previous year, marking the fifth time in the past eight years that electricity sales have fallen. The flattening of total electricity sales reflects declining sales in the industrial sector and little or no growth in sales to the residential and commercial building sectors, despite growth in the number of households and growth in commercial building space. Declining rates of electricity demand growth reflect a combination of factors, including the market saturation and increasing efficiency of electricity-using equipment, a slowing rate of economic growth, and the changing composition of the economy, which has reduced the role of electricity-intensive manufacturing.
Some improvements in energy efficiency have been market driven, reflecting the interest of consumers and businesses in reducing their electricity consumption and expenditures. Other improvements, mainly related to electricity use in homes and commercial buildings, have been driven by federal and state policies. Examples of policies at the federal level include energy efficiency standards for appliances and lighting equipment.
States, which regulate electricity distribution service through public utility commissions and other entities, have in some cases encouraged or mandated regulated utilities to provide energy efficiency programs for their customers. These programs may, for example, provide households and businesses with energy audits and significant rebates for the purchase of more efficient equipment. Some states have adopted more stringent building energy codes that can reduce the amount of energy needed for heating, cooling, and other purposes. Although efficiency policies have primarily focused on electricity use in the residential and commercial sectors, the slowing of electricity sales growth over the past decade is dominated by declining electricity sales to industry, which mainly reflect economic factors.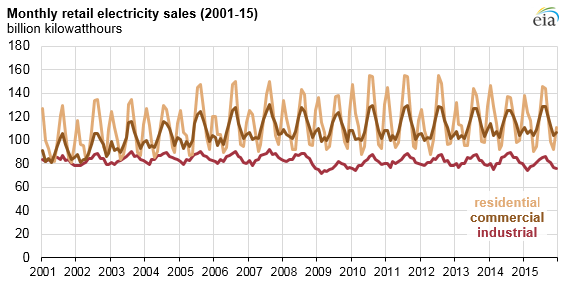 ---
Residential. Electricity sales to the residential sector accounted for 37.7% of all retail electricity sales between 2007 and 2015. Weather-related electricity demand for home heating and cooling is often the largest factor in year-over-year changes, while energy efficiency improvements and structural changes in the housing sector affect long-term trends. The 2008–09 recession slowed new-household formation and resulting electricity demand. Shifts in population and changes in housing square footage and type (i.e., from single-family homes to apartments) have an effect on residential electricity use. The continued population shift to the South and West has implications for space heating, as electricity is a more common space heating fuel in the South and West. This population shift has implications for air conditioning, as the buildings in these warmer climates require more cooling. Standards such as the lighting standards to phase out incandescent bulbs during the 2012–14 time period decreased residential demand for electricity.
Commercial. Growth in sales of power to commercial buildings averaged 1.1% annually over 2000–2015 and accounted for 36.5% of retail electricity use in 2015, up from a 35.6% sales share in 2007. Similar to the residential sector, annual fluctuations in commercial sector electricity demand are affected by weather patterns and the corresponding energy needs for heating and cooling. Standards to improve efficiency for major end uses such as lighting and space conditioning equipment have helped to moderate growing commercial building energy demand as electricity demanded for ventilation and data center servers has increased. The commercial sector contains a much more diverse group of equipment compared to the residential sector. The U.S. Department of Energy has expanded coverage of commercial-sector equipment, adding appliance standards for commercial ice makers, vending machines, pre-rinse spray valves, and commercial refrigeration equipment, among other products.
Industrial. Electricity sales to industry decreased at an annual average rate of 0.7% over 2000–2015, as the sector's share of total retail electricity sales fell from 31.2% to 25.8%. Electricity use in the industrial sector has historically been sensitive to economic conditions as the industry responds to changing demand for goods. The sector experienced a 9.1% year-over-year decrease in electricity use in 2009, during the 2008–09 recession, and electricity sales have declined at an annual rate of 0.9% from their peak in 2007 to 2015. Electricity-intensive industries have grown at about the same pace as the rest of the industrial sector, and efficiency improvements in these industries have contributed to declining electricity sales to industry.
Principal contributor: Kimberly Klaiman