October 26, 2015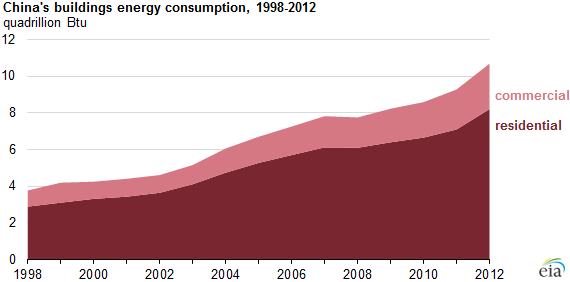 Source: U.S. Energy Information Administration, International Energy Statistics
---
From 1998 to 2012, the energy consumption of buildings in China grew by about 7.7% per year, much faster than China's average annual population increase, which was less than 1% per year. This consumption growth was driven by growing incomes and modernization that significantly increased the use of electricity and other forms of energy. In an effort to reduce energy consumption in residential and commercial buildings, China has implemented various energy efficiency policies and programs, including building energy codes, green building ratings, minimum energy performance standards, voluntary ratings programs, and energy-efficiency retrofits in existing buildings.
Building energy codes. China issued the first building energy code in 1986 for residential buildings in the northern part of the country where space heating demand is highest. These codes required a 30% reduction in space heating energy consumption compared with reference buildings from 1980. The stringency of these codes has increased over time. There are currently three energy codes for residential buildings in four climate zones (severe cold climate or cold climate, hot summer/cold winter, and hot summer/warm winter) as well as one code for commercial buildings. Urban residential and commercial codes are mandatory, while rural residential energy codes are voluntary.
Green building ratings. China launched a green building labeling system referred to as the Three-Star Rating Building System in 2006. Under this program, buildings are rated from one to three stars according to criteria that include use of land, energy, and water, in addition to material efficiency, indoor environmental quality, and operational management. In addition to building design, the Three-Star Rating Building System measures a building's performance and awards a rating after one year of building operation.
Minimum energy performance standards. China adopted the first minimum energy performance standards in 1989 for products such as refrigerators, room air conditioners, clothes washers, and televisions. Since then, China has implemented additional minimum energy performance standards for other major appliances, lighting, and cooling and heating equipment.
Energy efficiency labeling program. In 1998 China established a voluntary energy efficiency labeling program, similar to the U.S. ENERGY STAR® program. In 2005, the Chinese government introduced a mandatory energy information label, similar to the European Union categorical energy label. Under this program, appliances are categorized based on their level of energy efficiency performance.
Energy-efficiency retrofits of existing buildings. The Chinese government has paid particular attention to retrofits and renovation of existing buildings. The purpose of this program is to bring existing buildings to the level of code required for new construction. In 2011, the government strengthened its obligation by requiring a 10% reduction in energy consumption per square meter for commercial buildings and a 15% reduction for large commercial buildings with more than 20,000 square meters of floor area by the end of 2015. Under the Green Building Action Plan of 2013, more than 400 million square feet in residential homes and all eligible commercial buildings in the northern heating zone are anticipated to be retrofitted by the end of 2015 and 2020, respectively.
Energy demand in Chinese buildings is expected to continue to grow as a result of urbanization, further increases in per capita disposable income, and demand for more comforts and services. Upgrades of building energy efficiency performance standards, new technology development, education and awareness programs, enforcement of energy efficiency policies, and improved compliance could each play a role in reducing the future rate of consumption growth.
Principal contributor: Behjat Hojjati