October 23, 2015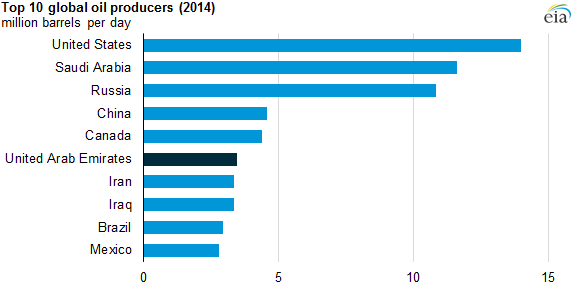 Source: U.S. Energy Information Administration, International Energy Statistics
---
The United Arab Emirates (UAE) was the world's sixth-largest oil producer in 2014, and the second-largest producer of petroleum and other liquids in the Organization of the Petroleum Exporting Countries (OPEC), behind only Saudi Arabia. Because the prospects for further oil discoveries in the UAE are low, the UAE is relying on the application of enhanced oil recovery (EOR) techniques in mature oil fields to increase production.
Using EOR techniques, the government plans to expand production 30% by 2020. EOR is an expensive process, and at current prices, these projects may not be economic. However, despite today's low oil prices, the UAE continues to invest in future production.
The Upper Zakum oilfield is one region that has been targeted for further development. The field is the second-largest offshore oilfield and fourth-largest oilfield in the world, and it currently produces about 590,000 barrels per day (b/d). In July 2012, the Zakum Development Company awarded an $800 million engineering, procurement, and construction contract to Abu Dhabi's National Petroleum Construction Company, with the goal of expanding oil production at the Upper Zakum field to 750,000 b/d by 2016. Production from the Lower Zakum field should also increase, with oil production eventually reaching 425,000 b/d, an increase from the current level of 345,000 b/d.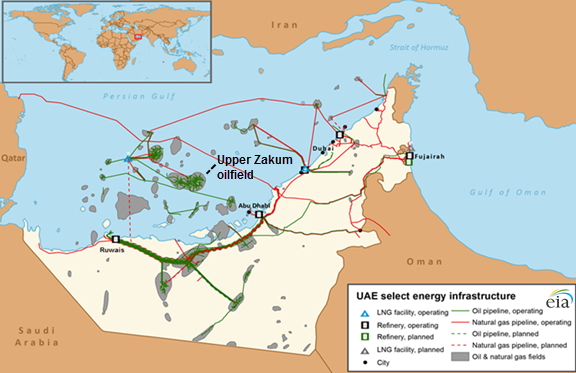 Source: U.S. Energy Information Administration, IHS EDIN
---
The UAE produced 1.9 trillion cubic feet (Tcf) of natural gas in 2013. A top-20 global natural gas producer, the UAE also holds the seventh-largest proved reserves of natural gas in the world, at slightly more than 215 Tcf. Despite its large reserves, the UAE became a net importer of natural gas in 2008 as a result of two things: the UAE reinjected approximately 30% of gross natural gas production in 2012 into its oil fields as part of EOR techniques, and the country's rapidly expanding electricity grid relies on electricity from natural gas-fired facilities.
Source: U.S. Energy Information Administration, International Energy Statistics
---
To help meet growing internal natural gas demand, the UAE has increased imports from Qatar and plans to increase domestic natural gas production. However, the UAE's natural gas has a relatively high sulfur content that makes it difficult to process, making it hard for the country to develop its extensive reserves. Advances in technology and growing demand have made the UAE's reserves an economic alternative to imports from Qatar, and UAE has several ongoing projects that will increase the country's production in coming years.
The UAE has also announced its intention to expand non-oil energy assets, in an attempt to reduce reliance on natural gas for power. For more analysis of the UAE's energy sector, see EIA's Country Analysis Brief on the United Arab Emirates.
Principal contributors: Alex Wood, Kelsey Tamborrino