October 5, 2015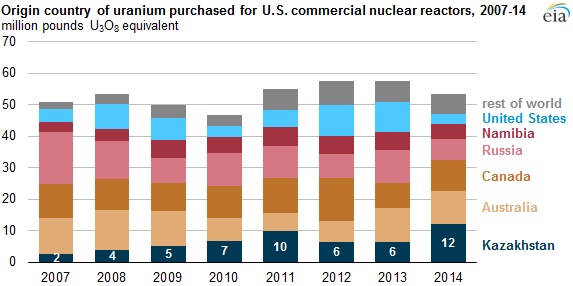 ---
Kazakhstan became the leading supplier of uranium for the 100 operating U.S. nuclear power reactors in 2014, supplying 12 million pounds, or 23%, of the 53.3 million pounds of uranium purchased by owners and operators of U.S. reactors. This level is almost double the 6.5 million pounds of Kazakh-origin uranium purchased in 2013. In previous years, Australia, Canada, and Russia have been leading suppliers of uranium to the United States. The amount of U.S.-origin uranium purchased in 2014 decreased 65% compared with 2013.
Average Kazakh uranium prices have been lower than other major supplying countries' prices for the past two years. Uranium from Kazakhstan was $44.47 per pound in 2014, compared with the overall weighted-average price of $46.65 per pound for the 41.3 million pounds of uranium purchased from producers outside Kazakhstan in 2014.
Kazakhstan became the world's leading producer of uranium in 2009 when it surpassed Canada. Uranium production in Kazakhstan has more than tripled since 2007, while production in Canada has been relatively constant, and production in Australia decreased 42%.
Uranium production and exports are controlled by Kazatomprom, a national atomic company created in 1997 by the Kazakhstan government in an effort to revive the country's nuclear industry. Kazatomprom has attempted to increase domestic uranium production capacity by working with international companies to encourage investment in uranium mining projects in Kazakhstan. The company also worked to expand Kazakhstan's uranium export markets, as the country's sole nuclear power reactor, which began operation in 1972, was shut down in 1999. Kazakhstan's ability to export uranium increased after the U.S. International Trade Administration terminated the 1992 antidumping investigation on uranium from Kazakhstan and lifted restrictions on the sale of uranium from Kazakhstan to the United States in 1999.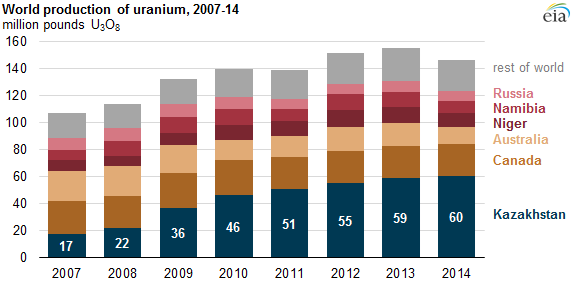 ---
Principal contributor: Doug Bonnar