July 21, 2011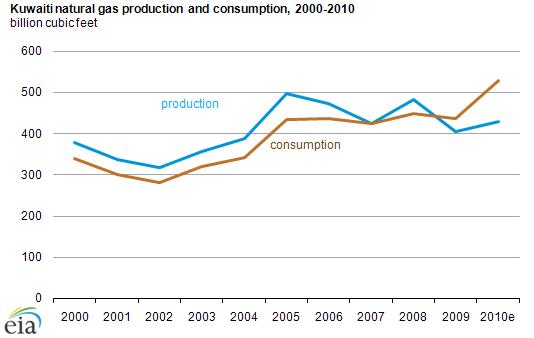 Source:
U.S. Energy Information Administration
Note:
2010 data estimated.
Download CSV Data
---
Kuwait, an Organization of the Petroleum Exporting Countries (OPEC) member country, is one of the world's top producers and exporters of crude oil. In 2010, Kuwait exported the fourth largest volume of oil among member countries in OPEC. However, since 2007, Kuwait has consumed more natural gas than it has produced. In 2010, Kuwait produced about 405 billion cubic feet (Bcf) of natural gas while consuming approximately 529 Bcf. Kuwait's 2010 estimated natural gas reserves were 63 trillion cubic feet, or less than one-quarter of proved natural gas reserves in the United States.
Kuwait's electric power generation is largely natural gas-fired. Reliance on natural gas rather than oil for power generation allows Kuwait to devote more of its oil production to export markets. Since at least 2007, demand for electricity has outpaced natural gas production during the summer months. Compounding this shortfall and its potential for electricity outages is the demand for natural gas from the country's refinery and petrochemical operations. At times, these refining facilities have shut down in order for Kuwait to meet rapidly growing summer demand levels for electricity.
To make up for this supply gap, since 2009, Kuwait has imported liquefied natural gas (LNG). Kuwait received its first LNG cargo in August 2009 at the Persian Gulf's first re-gasification terminal, Mina al-Ahmadi GasPort. The re-gasification capacity of al-Ahmadi is approximately 500 million cubic feet per day (MMcf/d) of LNG. In 2010, Kuwait imported 270 MMcf/d of LNG, largely from its neighbors including Yemen, Oman, and Qatar.
On July 6, EIA released the Kuwait Country Analysis Brief that features additional analysis on these trends, along with a broad discussion of Kuwait's energy sector.