July 12, 2011
---
Source: U.S. Energy Information Administration based on HPDI, LLC
Rapid increases in natural gas production from shale gas formations resulted from widespread application of two key technologies, horizontal drilling and hydraulic fracturing. Horizontal drilling lets producers access far more natural gas from relatively thin shale deposits. In Texas' Barnett shale, the Nation's most developed shale play, the number of producing horizontal wells rose from fewer than 400 in 2004 to more than 10,000 during 2010.
Click on the map above to see how horizontal drilling has displaced traditional vertical drilling since 1997 in the Barnett shale.
As the animation shows, producers have drilled some horizontal wells within the city of Fort Worth, and even on the property of the Dallas-Fort Worth airport, where wells began to appear in 2007 (near the end of the animation). The sharpened focus on horizontal drilling has generated steady and significant increases in natural gas production (see chart below). Annual production from horizontal wells exceeded that from vertical wells for the first time in 2006, and presently accounts for about 90% of total Barnett natural gas production.
Starting in the late 1990s, drilling in the Barnett grew rapidly, initially in the form of vertical wells. Since about 2003, however, the number of producing horizontal wells (red dots in the animation) has increased considerably, surpassing vertical wells (black dots) in 2007 and accounting for about 70% of producing wells in the Barnett during 2010.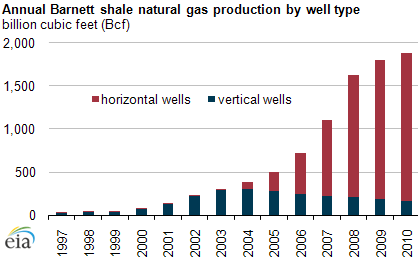 Source: U.S. Energy Information Administration based on HPDI, LLC
Shale deposits are typically thin layers of rock that cover a wide area. Horizontal drilling lets producers drill through a much greater extent of gas-producing rock in such a formation. Horizontal wells can traverse 5,000 feet or more of a given shale deposit, while a vertical well would simply go through the deposit, tapping only a small vertical layer of shale. When combined with hydraulic fracturing to break apart the relatively impermeable shale, horizontal wells allow considerably greater gas production than vertical wells, more than enough to make up for their greater expense.